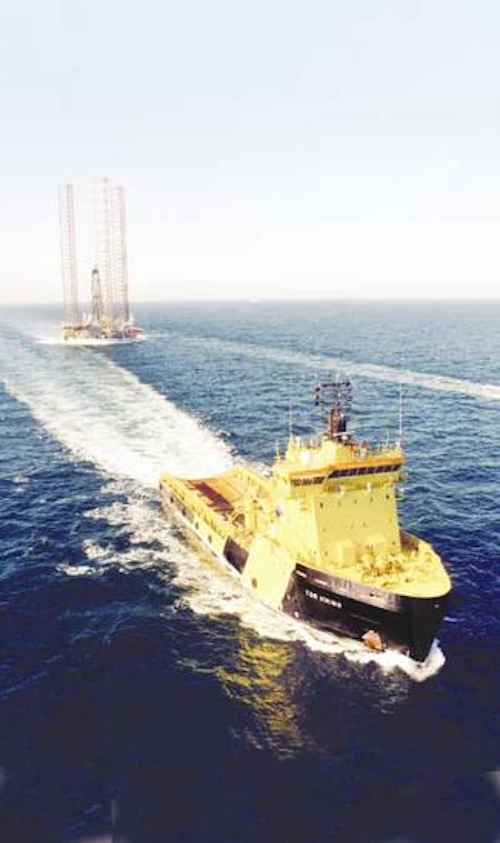 Looking for ways to keep icebreaking vessels busy over the summer months, B&N Viking Icebreaking & Offshore opted for anchor-handling and towing abilities for the three vessels in its fleet.
Folke Patriksson, president of B&N Viking, said the company, owned jointly by Sweden's B&N Nordsjöfrakt and Norwegian partner Viking Supply Ships, developed the idea for the dual-capacity vessels with the Swedish Mari-time Administration in 1997. Built at Kværner Leirvik, the Vidar Viking was delivered in 2001, while the Balder Viking and Tor Viking were delivered in 2000. B&N Viking has a 15 + 15-year contract with the SMA for icebreaking along the Swedish coastline.
null
There are 210 anchor handling/tug supply (AHTS) ships in the global fleet, but only 5% that are combined icebreaker/offshore vessels. In this group of about 10 AHTS vessels, B&N's ships are the only ones built more with a focus on offshore assignments, with the hulls also equipped for icebreaking. The others serve mainly as icebreakers, with the possibility of handling offshore work.
The three vessels are each 2,800 deadweight tonnes. They are heavier than normal anchor handlers because of their icebreaking capabilities, Patriksson said. Addi-tionally, they offer far superior power to levels typically associated with anchor handling vessels.
When the Swedish-flagged vessels were built, few anchor handlers offered 15,000 hp. Because the joint venture wanted to give its vessels a competitive edge, it ramped up the horsepower for the trio of vessels to 18,500 hp, he said. With that extra horsepower, the vessels can also perform tow jobs with their bollard pull of 200 metric tons.
The icebreakers can travel at 13 knots in 70 cm of ice. They are also agile, with the ability to make a 360° turn in two ship lengths at a speed not falling below 10 knots.
For more information, contact Folke Patriksson, B&N Viking. Tel: +46 304 67 47 21; fax: +46 304 67 47 20; folke.patriksson@bn.se; www.bn.se.