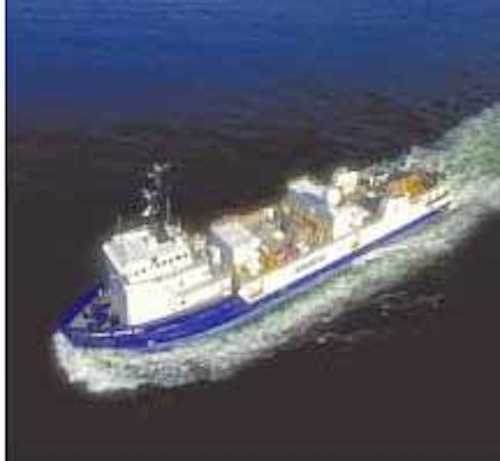 Judy Maksoud • Houston
In early May, Schlumberger Oilfield Services launched the DeepSTIM III, a fit-for-purpose stimulation vessel. Built to work in water depths as shallow as 20 ft, the vessel can also service deepwater wells.
The DeepSTIM III is equipped with advanced stimulation and information technology, high-speed data communications, antiroll systems, environmental waste containment, and data acquisition and transmission capability. DeepSTIM III also features an exclusive blending system to accommodate optimal high-rate frac-and-pack gravel-packing and matrix acidizing services. A computerized process-controlled system mixes stimulation fluids on the fly using fresh or seawater, which optimizes quality assurance and control, minimizes fluid waste, and reduces material costs.
null
A dynamic positioning system keeps the vessel in place using computer-aided thrusters built into the hull. And the satellite global positioning and sonar systems help assure operations continue in adverse weather.
The DeepSTIM III joins the DeepSTIM and DeepSTIM II stimulation vessels working in the Gulf of Mexico.
Fugro vessel gets an upgrade
Fugro Survey's advanced survey vessel Geo Searcher has been upgraded to enable it to gather hydrographic and geophysical data in greater water depths, at higher speeds, and in less ideal weather conditions.
New equipment includes a Kongsberg Simrad EM 1002 multibeam echo sounder, which operates at 95 kHz and provides twice the spatial resolution of the equipment it replaces. The device operates from the shoreline to depths of 1,000 m with cross-track coverage of 1,500 m in deeper waters.
The vessel also saw the installation of a GeoAcoustics GeoPulse sub-bottom profiling system. Sixteen hull-mounted transducers provide the narrow beam pattern necessary for deepwater operations in marginal weather conditions.
Halifax Shipyard launches AHTS
Halifax Shipyard, a division of Irving Shipbuilding Inc. in Halifax, Nova Scotia, Canada, launched the second of two newbuild anchor handling tug supply (AHTS) vessels on April 17.
The Atlantic Osprey is an Ulstein UT 722L design, measuring 80 m long and 18 m wide. The AHTS is designed for stand-by rescue, ROV operations, stand-in communications center, and firefighting as well as multifunction anchor handling, tug, and supply. The vessel is fitted out under deck to supply an offshore structure with all fluids required for operation and life.
null
The Atlantic Osprey features 500-metric-ton winches and has 550 sq m of deck space and a deck cargo weight of 900 metric tons.
The Atlantic Osprey was launched bow first into Halifax harbor, then proceeded to one of Halifax Shipyard's floating docks for complete blasting and coating of the hull.
The owner, Atlantic Towing Ltd., will take delivery of the new AHTS later this year. Halifax Shipyard also built Atlantic Osprey's sister vessels, the Atlantic Eagle and Atlantic Hawk.
Keppel sets up Kazakh facility
Keppel Offshore & Marine Ltd. is setting up an offshore engineering and construction facility in Kazakhstan.
According to Chairman and CEO Choo Chiau Beng, the new yard will complement another Keppel joint venture shipyard, Caspian Shipyard Co., in Baku, Azerbaijan.
The engineering and construction facility is adjacent to the Aktau Sea Port facing the Caspian Sea and is within the Free Economic Zone of Aktau.
The principal activities of Keppel Kazakhstan LLP will be design, construction, conversion, and repair of offshore drilling units and structures and specialized vessels, such as tugs and supply boats. The company also will act as an offshore supply and logistics base.
This new infrastructure component will be useful if the Kazakhstan government proceeds with plans announced in April 2003 to develop offshore oil and gas fields in the Caspian Sea to reach a production level of 50 million tons of oil per year by 2015.
BOA moves into new markets
Trondheim-based BOA Offshore is moving into the specialist offshore construction market with a new vessel. The BOA Deep C, designed specifically for offshore construction work, will be among the largest and most versatile as well as the most capable and powerful ships of its kind ever built, the company said.
The dynamically positioned vessel will work in the subsea market, performing subsea installations, mooring system and pipeline repairs, and template and anchor pattern installations. The vessel will be able to work at the previously inaccessible water depth of 2,000 m.
The BOA Deep C will be 120 m long with a beam of 27 m and will be have a gross rated tonnage of 10,000 metric tons. The BOA Deep C will be equi-pped with a 7.2-m-square moon pool, two 250-metric-ton heave-compensated cranes, a stern roller designed for a downward pull of 750 metric tons, and a bollard pull rating of well over 260 metric tons. The vessel will carry two workclass remotely operated vehicles, both equipped with guided launching systems for ex-treme conditions operation.
The BOA Deep C is due to undergo sea trials in December 2003 and is scheduled for delivery by year-end.