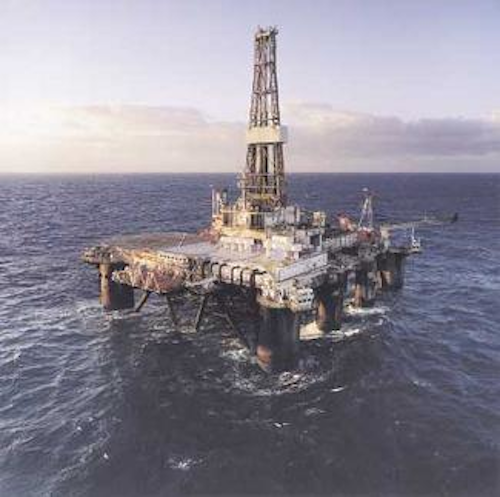 James Murphy
Thales Navigation Inc.
Offshore vessels that need extremely pre-cise navigation and positioning accuracy are increasingly taking advantage of the superior accuracy and reliability afforded by recent advances in dual global posi-tioning system (GPS)/Global Navigation Sat-ellite System (Glonass) positioning solutions.
Improvements in hardware and software have made these systems increasingly accurate and easy to use.
null
The primary advantage of navigation systems using the US-operated GPS, plus the Russian Federation-operated Glonass is increased satellite coverage. The 24 GPS satellites and the Glonass constellation of nine satellites – the system is designed for 24 – offer the potential to provide coverage from as many as 48 satellites from the combined constellations.
A number of offshore navigational applications require accurate, reliable navigational positioning. Offshore drilling rigs, including semisubmersibles and drillships, use dynamic positioning (DP) guided by complex navigational systems that rely on satellites for station-keeping over the well. Shuttle tankers making pickups at FPSOs require highly precise relative positioning as they approach and hook up in seas as high as 4.5 m.
null
Overcoming obstacles
Sunspot activity that disrupts the ionosphere and satellite signals is especially noticeable in areas near the magnetic equator and in polar regions. In the equatorial regions prone to ionospheric error, offshore work has had to be suspended during periods of high ionospheric variability, increasing costs due to lost working hours.
Though the problem peaked during maximum sunspot activity in 2000, ionospheric activity remains a significant problem for offshore vessels and rigs. For example, in one of the highest concentrations of DP rigs working in the world in the Campos basin off the east coast of Brazil, latitude 10° south, navigators have experienced errors, from meters to tens of meters over short time spans due to ionospheric variability. Too often, the errors were not resolved using integrated dual frequency corrections from a single coastal reference station.
In response to this problem, Kongsberg Seatex, a Norwegian company specializing in precision positioning systems, undertook a research project to create a suitable hardware/software combination to compensate for positional errors caused by ionospheric activity.
Testing in Brazil determined whether a multi-reference GPS/Glonass positioning system would perform substantially better than conventional GPS during high ionospheric activity. Kongsburg Seatex tested positioning systems built around a Thales Navigation GPS and Glonass receiver. Thales, a developer and manufacturer of positioning, navigation, communications, and guidance equipment, developed the first 24-channel all-in-view GPS-plus-Glonass receiver.
The Seatex DPS 700 incorporates DPS 200 and DPS 102 to remove ionospheric delay and improve satellite coverage with GPS and Glonass integration.
This GG24 receiver board combines GPS and Glonass into a single position and uses all available satellites from both systems to obtain the best possible position information. Using the latest Thales receiver boards, Kongsberg Seatex developed and tested an array of electronic precision positioning devices that combine GPS and Glonass with differential corrections.
The combination yielded optimum results. Availability with GPS and Glonass is close to 100%, and the positional accuracy is reliably calculated to within a few meters.
Putting solutions to work
Subsequent to these tests, a number of drilling companies, including Transocean, with its Sedco 710 semisubmersible, have added positioning systems with dual GPS and Glonass capability. The Sedco 710 can work in water depths to 4,500 ft and drill to a depth of 25,000 ft. The rig is able to maintain position and continue operating in waves up to 25 ft, winds to 40 knots, and currents to 2.4 knots through its DP system, which is guided by a Seatex DPS 700 positioning system in conjunction with a separate acoustic positioning system. Rig Manager David MacDonald said it is vital to have good station keeping and that the rig's station keeping has generally been problem-free.
Diamond Offshore Drilling is changing over to digital GPS (DGPS)/digital (DGlonass) station-keeping positioning systems. Diamond's semisubmersible rig, Ocean Yatzy, which can drill in water to 5,000 ft deep and to drilling depths of 25,000 ft, is now outfitted with a Seatex DPS 700 system as it drills in the Campos basin off Brazil.
"Before, we were using positioning equipment that gave us a lot of problems due to signal loss from ionospheric scintillation," said Koen Van Twembeke, marine superintendent at Dia-mond Offshore. "We were doing everything we could to avoid outages on the DGPS systems, but at times we were reliant on the acoustic system on the seabed. We never like to rely on just one system because if it goes down, we have to disconnect and interrupt the operation. We found the DPS 700, which seemed like it could be an answer to our problems. At first we put it on the rig to test for the DP operators, a tough group to please. But once we had it onboard for about three weeks, they really liked it. We have been so pleased with the system that we have now installed it on another of our rigs, Ocean Alliance, that's also working in the Campos basin. This is a system that can help in many parts of the world. We are very pleased with it."
Shuttle tankers operating in conjunction with FPSO vessels see dual GPS/Glonass positioning systems as a valuable tool. Navion, a shuttle tanker operator based in Stavanger, Norway, and recently acquired by the Teekay Shipping Corp., uses the Seatex DPS 200 for two of its tankers operating in equatorial regions.
"We like the security that comes from positioning using both DGPS and DGlonass," said Kjell Helgoy, technical maritime operations, electrical, and automation systems manager. "If you lose the corrective signals, you have better geometry with more satellites available. And in this kind of working environment, that's critical."
Accurate vessel positioning is a crucial part of the navigation picture. Safety, huge investments, and environmental health are all at stake. With the latest advance in navigational positioning, such as integrated GPS and Glonass positioning systems on its side, the offshore industry is sailing in calmer waters.