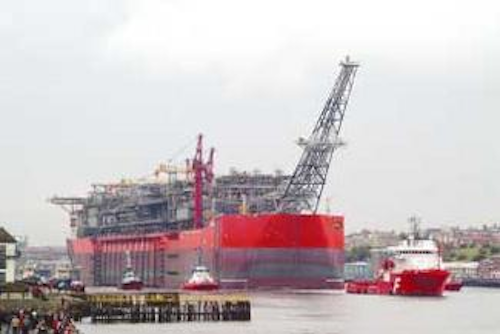 Judy Maksoud • Houston
AMEC completes Bonga FPSO
In late October, the Bonga FPSO left AMEC's integration facility at Wallsend, Tyne and Wear, in the UK. The sail-out followed 10 months of engineering work to fabricate and install 22,500 metric tons of topsides processing equipment.
AMEC provided project management and engineering design services and fabricated and integrated the complex production facilities to produce one of the world's largest FPSOs.
null
The Bonga FPSO is 300 m long, 75 m wide, and 33 m high. When operational in 2004, the vessel will extract and process up to 225,000 b/d of oil and store up to 2 MMbbl. It will also have a gas export facility of 150 MMcf/d.
AMEC's contract also includes hook-up and pre-commissioning of the facility on location in the Bonga oil and gas field 120 km off the coast of Nigeria.
Shell awarded AMEC the $509-million engineering, procurement, and construction contract in early 2001.
Seabulk adds new AHTS
The Seabulk Offshore group of companies, part of Seabulk International Inc., has added a new UT-710 anchor-handling tug supply (AHTS) vessel to its fleet. The 226-ft Seabulk South Atlantic is the fifth newbuild vessel in Seabulk's 2003 fleet renewal program.
The Seabulk South Atlantic produces speeds up to 15.5 knots, has a certified bollard pull of 133 metric tons, and is fitted with a triple-drum anchor-handling/tow winch with up to 300 tons line pull and 450 tons brake load. The vessel has a 123-ft by 50-ft deck that can handle up to 800 tons of cargo. Designed by Rolls Royce Marine, the UT-710 incorporates a substantial amount of Rolls Royce equipment, including the main engines, thruster, rudder, and automation and control systems. Fitted with high liquid, mud, and brine capability as well as Fire Fighting (FiFi) 1 class notation and dynamic positioning, the vessel is suitable for multiple support roles.
null
Built by Brevik Construction AS in Norway, the 10,850-hp Seabulk South Atlantic joins the Seabulk fleet on a five-year bareboat charter agreement that includes a purchase option at the end of the contract. The AHTS will service growing markets in West Africa.
Earlier this year, Seabulk added a newbuild platform supply vessel (PSV) to its West Africa fleet, two newbuild bareboat charters for Indonesia, a new line-handler for Brazil, and two newbuild PSVs for Brazil to be delivered in 2004 and 2005.
FELS completes Ocean Titan
The American FELS shipyard in Brownsville, Texas, has completed the upgrade on Diamond Offshore's Ocean Titan. The Ocean Titan is the last of six jackups Diamond has upgraded this year at a combined cost of $100 million. The enhancement projects included the Freide Goldman L780 design Ocean Heritage and Ocean Sovereign, both in Singapore, from 250-ft independent cantilever status to 300-ft depth capability.
The Ocean Spur and Ocean Spartan, also F&G L780s, were improved to 300-ft capability and are now in the Gulf of Mexico. The Ocean Tower and Ocean Titan, both Marathon Letourneau design, were converted to 350-ft cantilevered status from their previous slot configurations.
Modec to supply FPSO
Modec received a letter of commencement from Santos Ltd. of Australia for an FPSO to be used in the Mutineer-Exeter field development. The field is 150 km north of Dampier, Western Australia, in WA-191-P. The development plan calls for a turret moored FPSO.
The FPSO will be built from an existing double-hull Suez-max tanker that meets Australian environmental regulatory requirements. Modec is responsible for engineering, procurement, construction, installation, commissioning, and operation for the 930,000-bbl storage capacity FPSO, including the topsides processing equipment and inboard turret mooring system. Modec will operate the FPSO for a minimum of five years with possible extensions.
The FPSO is to be installed in 156-m water depth and will be capable of processing 100,000 b/d of oil. Santos expects first oil from the field in mid 2005; however, Modec is targeting an earlier date of 1Q 2005 for first oil.
null