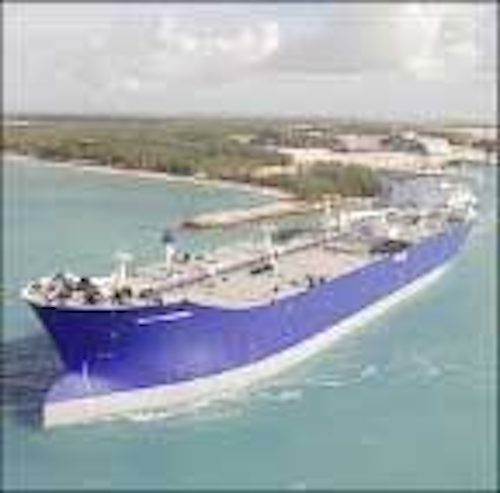 Judy Maksoud • Houston
Kværner Masa-Yards Inc. and Russia's Far-Eastern Shipping Co. PLC have signed contracts for the design and construction of two icebreaking stand-by and supply vessels for the Sakhalin-1 project.
The contracts were evaluated by ExxonMobil, which operates the Sakhalin-1 project in the Okhotsk Sea off Eastern Russia, where the vessels will be used.
According to Jorma Eloranta, president and CEO of Kværner Masa-Yards Inc., "These contracts are the first contracts for icebreakers from Finland to Russia since the construction of the nuclear icebreakers Taymyr and Vaygach in the 1980s."
In addition to a number of Arctic cargo ships, Kværner Masa-Yards have delivered six icebreakers for FESCO since the late 1960s, of which four are still in their operation, Eloranta said.
The icebreakers are being built on the "double-acting" concept for icebreakers, developed by the Arctic Technology Centre, which is part of Kværner Masa-Yards.
In the "double-acting" concept, the vessel meets the most difficult ice conditions moving with the ship's stern first, using azimuthing electric propulsion. By doing so, the vessel uses less power, and the ship's bow can be optimized for efficient open water operation.
The vessels have a length of 100 m and 4,000 dwt. The shaft power is 13 MW. The ships will be fitted with two azimuthing rudder propellers.
Operating conditions in the Sakhalin area are demanding, with freezing temperatures down to -40° C and difficult ice conditions with ice ridges up to 20 m deep and solid ice exceeding 1.5 m in thickness.
COSL to build workover rig
China Oilfield Services Ltd. has entered into a well workover rig service agreement with ConocoPhillips China for the development of the Peng Lai 19-3 block.
The agreement calls for COSL to build a work- over rig, which will be leased to ConocoPhillips China. COSL will also provide rig maintenance services.
The service contract includes building, installation, and adjustments as well as three years of well workover rig maintenance. The rig is expected to be delivered on Jan. 1, 2004. Installation and adjustments and well workover services are expected to begin on Feb. 1, 2004. The contract is for three years.
According to Yuan Guangyu, COO and president of COSL, the contract is the first for which COSL will purchase, build, install, and provide related maintenance services on a well workover rig for a company involved in a production-sharing oilfield.
New semi for Mærsk
Keppel Offshore & Marine Ltd. delivered a new generation semisubmersible rig to Mærsk Contractors two weeks ahead of schedule in mid August. The rig was named Lider in a ceremony that was held at Caspian Shipyard Co. in Baku, Azerbaijan.
Lider will be contracted to Exxon Azerbaijan Operating Co. LLC and Chevron Overseas Petroleum Azerbaijan Ltd. for a three-year drilling program.
The multi-function rig is the first of the DSS-20-CAS-M semisubmersible design to be built. Capable of operating in water depths to 1,000 m and drilling to 9,140 m, Lider has a variable deck load of 4,000 tons and is able to accommodate 130 people. It is specifically designed to handle deep water and high formation pressures, which are anticipated at the first well in the Zafar-Mashal structure in the Caspian Sea.
ABB delivers for China
ABB has delivered a distributed control system (DCS), safety system, and fire and gas system for production process control on a newly built FPSO for China National Offshore Oil Co.
A second Chinese contract went to ABB's marine business unit in Norway. The company will supply integrated electrical systems and services for Zhejiang Shipbuilding Co. Ltd. for four diesel-electric platform support vessels (PSVs) to be built for the offshore division of Groupe Bourbon. The contract also includes an option for similar deliveries to four additional vessels.
Groupe Bourbon offshore division's new PSVs, of GPA 670 design from Guido Perla & Associates Inc., will be equipped with environmentally friendly diesel-electric propulsion and dynamic positioning systems. As Integrated Electric System Vendor, ABB will supply a complete electro-technical solution that also includes dynamic positioning, thruster control, and automation from Kongsberg Maritime.
Delivery of the first vessel is scheduled for the beginning of 2Q 2005, with the remaining deliveries at intervals of approximately three months.
New tanker joins the fleet
ConocoPhillips subsidiary Polar Tankers Inc. has taken delivery of its newest double-hulled tanker from Northrop Grumman Ship Systems in Avondale, Louisiana. The Polar Discovery is classed by the American Bureau of Shipping and joins sister ships, Polar Endeavour and Polar Resolution, in the ConocoPhillips fleet carrying crude oil from Alaska to the West Coast and Hawaii.
The Endeavour Class vessels have double hulls with 10 ft of space between the inner and outer hulls, two independent engine rooms, redundant propulsion and twin steering systems, a bow thruster, and state-of-the-art navigation systems.
In a unique joint cooperation project, teams from Northrop Grumman and ConocoPhillips expedited construction of the vessel, which completed sea trials significantly ahead of its revised delivery date.
Two additional Endeavour Class tankers are under construction at the Avondale shipyard and are scheduled for delivery in 2004 and 2005, respectively.
The entire ConocoPhillips US flag tanker fleet will be double-hulled by 2008.
Pertamina buys 12 tankers
Pertamina, Indonesia's state-owned oil and gas company, has purchased 12 tankers ranging in weight from 3,500 tons to 300,000 tons at a cost of $280 million.
The order includes two 260,000-dwt very large crude carriers (VLCCs), three 30,000-dwt tankers, two 17,500-dwt tankers. three 6,500-dwt tankers, and two 3,500-dwt tankers.
In placing this order, Pertamina has placed the first order for VLCCs ever generated in Indonesia.
The VLCCs will be built in Korea, as will two of the 30,000-dwt tankers, and one of the 6,500-dwt tankers. The third 30,000-dwt tanker will be built in Indonesia. A Korean yard will build one of the 6,500-dwt tankers. The balance of the fleet will be built in Indonesia.
The purchase of these 12 tankers marks the first step toward an overall purchase of 38 tankers that Pertamina expects to buy by 2008. The company has launched a series of significant actions to move Pertamina toward a new model of governance and management. Primary objectives include obtaining limited liability company status and restructuring its operations to become a globally competitive business.