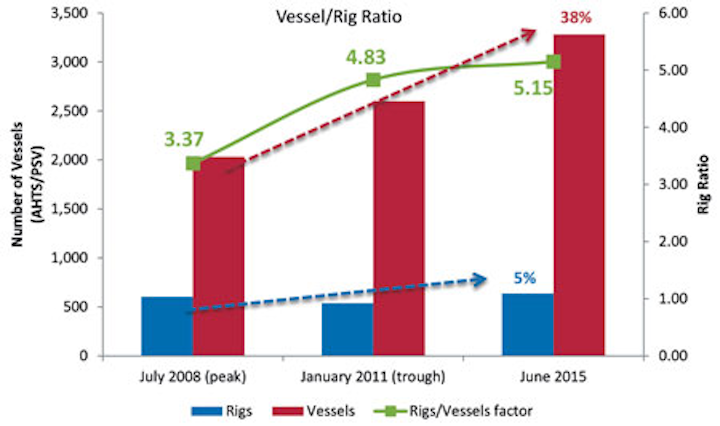 Robin Dupre • Houston
Rough sailing for offshore supply vessels
The offshore supply vessels (OSV) industry is one of the many impacted by the severe decline in oil prices this year, said Esben Christensen, Jon Labovits, Catherine Chak, and Job Chan, AlixPartners.
OSVs are efficient and vital components of the oil and gas industry. They provide logistical support for offshore drilling platforms-from logistics to rescue services-and form a maritime-industry subsector that generates more than $25 billion in annual revenues. Many different types of vessels make up the OSV market, which is now at a low point caused by a plunge in oil prices and excess industry capacity. Companies, including those comprising the major segments-platform supply vessels (PSVs) and anchor-handling tug supply (AHTS) craft-face serious challenges and have to respond to radically altered economic conditions.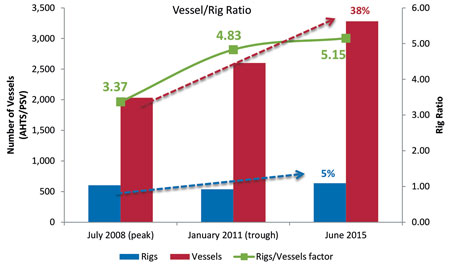 AlixPartners' graph depicts the vessel/rig ratio from July 2008 to June 2015. (All graphs courtesy AlixPartners)
Shipping fleets mark nearly every week with press releases announcing layoffs, the stacking of vessels, and delays in the commencement of new ship construction, the company stated. The AlixPartners 2015 Offshore Supply Vessel Study of 33 major companies within the sector shows rising debt burdens that will add to those companies struggling to maintain positive balance sheets as their earnings are likely declining. The industry faces grave financial pressure as demand has receded, mirroring the slide in oil prices.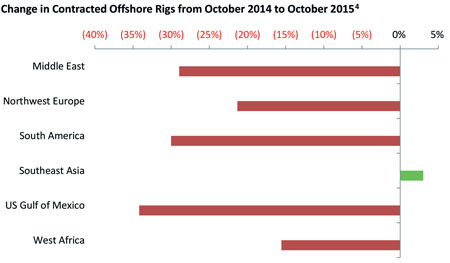 The change in contracted offshore rigs is highlighted in the bar graph from October 2014 to October 2015.
Oil prices dropped from more than $100/bbl in January 2014 to less than $45/bbl in November 2015, and exploration and production companies have cut growth plans for offshore rig counts. In parallel, demand for service vessels and crews has also slowed, which puts pressure on vessel usage and day rates, curbs growth plans, and reduces revenues. According to Clarksons Research, OSV day rates are down around 40% from early 2014.
Rig counts ultimately dictate the fortunes of the OSV market, and the lower the price of oil, the fewer the number of rigs required. And, in turn, fewer active rigs mean fewer AHTS vessels and, further, cuts in the growth of rig installations have crimped demand for PSVs. Meanwhile, at the same time demand has been dropping, competition and capacity has been rising, as Chinese shipyards and easy credit helped drive up vessel counts. According to RS Platou, OSV fleet growth globally in 2015 and 2016 will be almost 18%. Therefore, the industry will have seen the vessel-to-rig-count ratio increase by 35% since the January 2008 peak. Looking at it another way, as of June 30, 2015, OSV inventory increased 38% since January 2008, whereas rig counts increased only 5%. Additionally, as of October 2015, rig usage is down more than 18% worldwide from a year ago across all six major global regions.
North America to feature heavily in a 2016 FPS resurgence
With a mere four orders recorded in 2015, the floating production system (FPS) sector is suffering, says Ben Wilby, Douglas-Westwood (DW) London.
"However, things are anticipated to be better next year, with the US Gulf of Mexico in particular having a surprisingly bright future," Wilby said. "The area is expected to have as many orders next year as there were globally in 2015 and this positive upturn has already started with the Appomattox floating production semisubmersible (FPSS) being awarded in 3Q, the most expensive unit ordered all year."
A few years ago this would have been unthinkable, with interest in the deepwater GoM waning as numerous companies gave up their offshore acreage to focus on the shale market onshore, he said. Yet the declining oil price has, if anything, bolstered interest in the region. An employee of a major engineering company recently expressed surprise to DW at how many tenders they were invited for in the GoM.
This demonstrates the fact that the US GoM is an attractive investment area at a time of low oil prices, with field development approvals despite the low oil price. This highlights the appeal to operators of a well-established, politically stable investment climate and until the oil price improves, most frontier areas are likely to be ignored.
A crucial point found in DW's new World Floating Production Market Forecast 2015-2019, 4Q update, however, was that units ordered next year will be significantly cheaper than those ordered before the downturn. For the US, cheaper developments were already the norm due to smaller reserves, leading to a preference for "mini-FPS" developments. The downturn has seen even these costs slashed with the Mad Dog Phase 2 development that was uneconomical at $110/bbl being ready for a final investment decision next year, after numerous front-end engineering and design revisions, despite the bleak oil price forecast.
"Regardless, any upturn after a dismal 2015 will be greeted gratefully from the array of shipyards and suppliers who are hurting badly in the current environment," he said.
Petronas floating LNG2 takes shape with new construction milestone
The PETRONAS Floating LNG2 (PFLNG2) takes shape as a construction milestone is achieved with the official keel laying of PETRONAS' second floating liquefaction plant in Geoje Island, South Korea on Oct. 28, 2015.
Petronas, together with JGC Group and SHI, the consortium leading the EPCI work on the PFLNG2, commemorated milestone with a ceremony held at the Samsung Heavy Industries Shipyard.
The second floating LNG facility for Petronas will make possible the liquefaction, production, and offloading processing of natural gas in the Rotan field, 81 mi (130 km) offshore Sabah. The vessel will have a capacity of 1.5 mtpa and designed for deepwater is expected to commission in 2018.