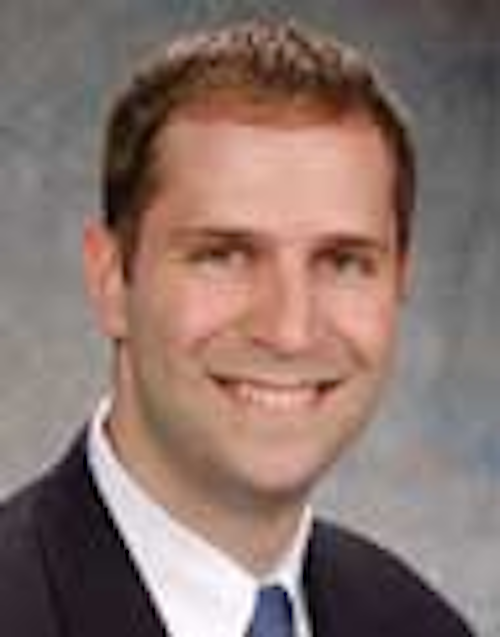 | | | |
| --- | --- | --- |
| | | David Paganie Houston |
In late March, a Total-led consortium recorded a world-record water depth for offshore drilling with its Raya-1 exploration well spud in deepwater block 14 off Uruguay. The well, in 11,155 ft (3,400 m) of water, marks a significant increase from the previous world record held by ONGC offshore India in 10,411 ft (3,174 m) of water. More importantly, it illustrates the importance of offshore as a long-term investment. Total's exploration director in Uruguay, Christian Tichatschke, was quoted by Bloomberg as saying, "There could be an elephant out there. This is what we're chasing. It's a very risky project, but we believe we can find something." It is the first well spudded offshore Uruguay in 40 years. The prospect is believed to share geological similarities with formations offshore Brazil, but there are no production analogs in the immediate vicinity. Earlier this year, Statoil acquired a 15% working interest from Total in block 14 to "strengthen its long-term international portfolio." The Maersk drillshipMaersk Venturer is drilling the Raya well under a 120-day contract.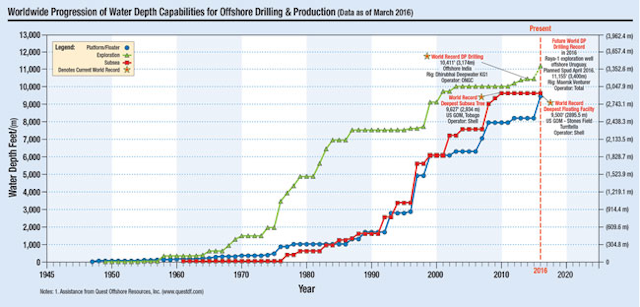 Courtesy the 2016 Deepwater Solutions & Records For Concept Selection poster team.
New research from analytics firm Rystad Energy supports the premise that offshore will continue to be an important source of liquids supply. By 2025, approximately 45% of the new production needed is expected to come from offshore, while shale accounts for 30% and conventional onshore and oil sands for 25%, says Jon Fredrik Müller, senior project manager, Rystad Energy. After a flat development period from 2016 to 2017, the market is expected to return on a growth path in 2018, reaching $360 billion in 2020. See Müller's comprehensive offshore market outlook beginninghere.
Meanwhile, brownfield work is accelerating offshore while the industry awaits the economics of greenfield projects to improve. However, operators must embrace new technologies to enable efficiency in brownfield operations, suggests Ahmed Hashmi, head of upstream technology, BP. He points to an increasingly broad range of low-cost digital and EOR technologies that are becoming available to enable brownfield development and management. Hashmi offers his perspectives on the outlook for offshore brownfield development, beginninghere.
Another industry milestone is expected later this year when the first FLNG vesselPFLNG SATU enters production offshore Bintulu, Sarawak. The Petronas-operated vessel is expected to be ready for sail-away from the DSME shipyard in Okpo, South Korea, in 2Q 2016. The Malaysia state oil company claims its FLNG vessel will pave the way for opportunities to monetize gas resources from remote, marginal, and stranded fields, which otherwise would not be economical to develop. Meanwhile, work has been delayed on its second vessel in the series, PFLNG2. ABS, selected by Petronas to class and provided technical services for the vessel, suggests that a rebound in the demand for natural gas has the potential to create an environment in which it and other similar units are needed. And, once PFLNG SATU, Prelude, and other units such as Golar's first conversion enter operation, valuable operational experience will be gained, writes Tor-Ivar Guttulsrod, ABS. Guttulsrod's review of the global FLNG market begins here.
To respond to articles in Offshore, or to offer articles for publication, contact the editor by email(davidp@pennwell.com).