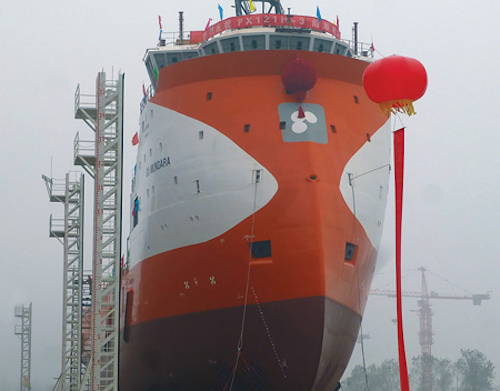 Robin Dupre • Houston
Eni terminatesOcean Rig Olympia contract
Eni has terminated its contract with Ocean Rig UDW Inc. for the ultra-deepwaterOcean Rig Olympia drillship. The rig provider said that the Italian company had reassessed its drilling activities and moved to terminate the contract "due to the dramatic fall of the crude oil price and the volatile market context."
Ocean Rig announced in May 2015 thatOcean Rig Olympia had entered into a new contract with Eni to drill offshore Angola. Work was to begin in 3Q 2015 for a minimum of eight months with a total contract backlog of about $91 million.
The DP-3 classOcean Rig Olympia was built at Samsung Heavy Industries' South Korean shipyard. The 2011-build is designed and equipped for drilling in water depths from 500-3,000 m (1,640-10,000 ft).
According to an update on the transaction provided by Evercore ISI's Oilfield Services, Equipment & Drilling group, Eni's decision reduces Ocean Rig's backlog by an estimated $49 million.
Noble Drilling to stack more rigs
Noble Corp. has issued a status update for its drilling rig fleet. Last month Shell terminated theNoble Discoverer's contract. A payment to Noble was made for the remaining term at about 90% of the operating day rate, adjusted for certain other items. The rig is being mobilized to Singapore where it is expected to be stacked.
TheNoble Sam Croftand Noble Tom Madden remain under contract with Freeport-McMoran into July 2017 and November 2017, respectively. The company has announced plans to reduce the number of rigs it uses in the US Gulf of Mexico.
As for theNoble Scott Marks, Noble Roger Lewis, Noble Joe Beall,and Noble Gene House rigs, Noble said that its Saudi Aramco contract rates were adjusted downward for 2015.
Atwood defers delivery of two ultra- deepwater drillships
Atwood Oceanics has deferred delivery of two remaining newbuilds. Last month the company entered another delay agreement to defer the deliveries of theAtwood Admiral until 2017, and the Atwood Archer until 2018. The agreement with Daewoo Shipbuilding & Marine Engineering Co. postpones the milestone payments of $93.9 million for the Admiral and $305 million for the Archer to their delivery dates in exchange for $50 million payments for each rig on Dec. 31, 2015. This deferral builds on the company's April 2015 choice to delay rig delivery for one year to reduce its near-term capex spending in light of the challenging offshore drilling market. Atwood signed a letter of intent for one of the newbuilds to commence a drilling program offshore Brazil in 3Q 2017.
Two new vessels launched for Otto Offshore
The sister vesselsGo Matilda andGo Mundara, platform supply vessels under construction at the Wuchang Shipbuilding Industry Co. for Otto Offshore, were recently launched.
The vessels are number two and three in a series of four, with the first vessel beingGo Michigan.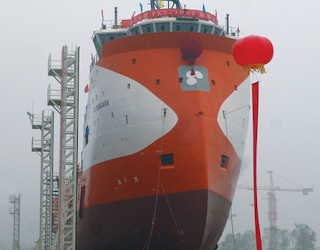 Go Matilda, a PX121 vessel is capable of supporting offshore activities. (Image courtesy Otto Offshore)">
GoMundara, a PX121 vessel is capable of supporting offshore activities. (Image courtesy Otto Offshore)
The PX121 vessels are capable of supporting offshore activities. In addition to tanks for various contents such as oil, water, and drilling fluids, they have four stainless steel tanks for flammable liquids or corrosive chemicals. The vessels are certified by DNV and carry the 'Clean Design' notation. They can accommodate 30 persons and keep a speed of approximately 14.5 knots.
A vessel of the PX121 design has an overall length of 274 ft (83.4 m), a beam of 59 ft (18 m), and a load capacity of about 4,000 metric tons. The vessels are equipped with the most modern solutions for DP-2 dynamic positioning, oil recovery, and fire-fighting.
Go Mundara, a platform supply vessel, was recently launched. (Image courtesy Otto Offshore)">
GoMundara, a platform supply vessel, was recently launched. (Image courtesy Otto Offshore)
The contract with Ulstein includes the deliveries of design, engineering and main equipment. An extensive delivery from Ulstein Power & Control includes integrated control systems, bridge (radio, navigation), switchboard, diesel electric propulsion and frequency converters, and communication systems.
The vessels will be prepared for offshore crane and a mezzanine deck for ROV.
Bisso Marine acquires new derrick/pipelay barge
Bisso Marine has acquired the offshore pipelay industry's stalwart derrick/pipelay bargeGlobal Iroquois. The 400 ft x 100 ft x 30 ft (122 m x 30 m x 9 m) laybarge has performed pipelay operations worldwide and will be renamed Bisso Iroquois.
The central part of the barge's station keeping system are the 10 single drum winches with 320 kips of pulling force and 744 kip holding force each. Each single drum winch holds 5,300 ft (1,615 m) of a 2.5-in. wire rope. The barge's main tub mounted dynamic revolving crane has a 250-ton capacity and the deck crane is a Manitowoc 4100W Series 2.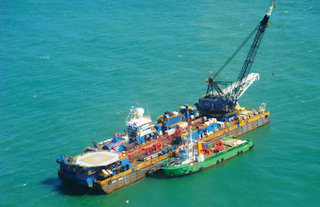 Global Iroquois. (Image courtesy Bisso Marine) ">
Bisso Marine has acquired the offshore pipelay industry's stalwart derrick/pipelay bargeGlobalIroquois. (Image courtesy Bisso Marine)
The pipe handing system is designed to handle 40-ft (12-m) pipe joints but can accommodate 60-ft (18-m) joints with some modifications. The pipe handling system can handle pipe joints weighing up to 38 tons each. Through a series of conveyors, pipe is fed into a fully enclosed ready rack, line up station and firing line.
TheBisso Iroquois can accommodate 256 persons and features a large galley and dining area, a large theater, several conference rooms, ample client office space, a gym, and a three bed hospital. During the last decade, the barge has been reconfigured and received significant capacity, technology, and efficiency upgrades to enable it to perform internationally in very harsh environments for long durations.