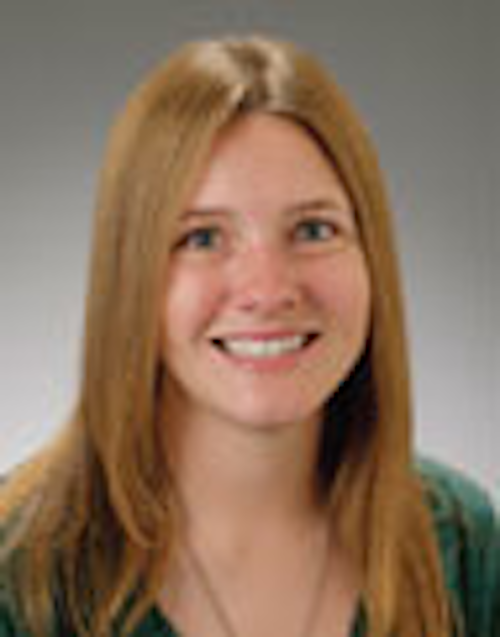 | | | |
| --- | --- | --- |
| | | Jessica Tippee • Houston |
In late August, Allseas' dynamically positioned single-lift installation/decommissioning and pipelay vesselPioneering Spirit successfully removed the 13,500-ton Yme MOPU in the North Sea, 100 km (62 mi) offshore Norway for Repsol Norge AS.
The Yme MOPU is a jackup type platform standing on three steel legs of 3.5 m (11 ft) diameter, which are inserted approximately 10 m (33 ft) inside the subsea storage tank columns at 93 m (305 ft) water depth. With this platform removal, Allseas says it was able to demonstrate the unique single-lift capabilities of the vessel. With the platform sea-fastened on board, the vessel then headed to the newly developed dismantling yard in Lutelandet, Norway.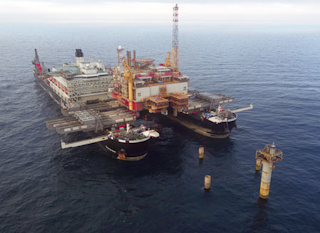 Pioneering Spirit will have a topsides lift capacity of 48,000 tons and a jacket lift capacity of 25,000 tons. (Photo courtesy Allseas)">
Measuring 382-m (1,254-ft) long and 124-m (407-ft) wide, thePioneering Spirit will have a topsides lift capacity of 48,000 tons and a jacket lift capacity of 25,000 tons. (Photo courtesy Allseas)
The vessel is expected to return to Rotterdam where the remaining four topsides lifting beams will be installed for the Shell Brent Delta topsides removal, scheduled for the summer of 2017.
GustoMSC introduces harsh environment semisubmersible series
GustoMSC has launched a new harsh environment drilling semisubmersible series: the OCEAN-HE. The OCEAN850-HE and OCEAN1600-HE form the basis for respectively the mid water and deepwater harsh environment regions of operations. The semisubmersible hull shape is especially designed for low motion characteristics and optimum station keeping capabilities.
The OCEAN1600-HE is the largest drilling semi design by GustoMSC to date. With a maximum displacement of approximately 70,000 tons, a large derrick, DP-3 and a 16-point mooring system for station keeping, it is designed to cope with the North Atlantic environmental conditions.
The OCEAN850-HE is a moored-only harsh environment semisubmersible of approximately 50,000 tons displacement with a water depth rating of 1,000 m (3,280 ft), and a sixth-generation efficient single derrick combined with horizontal riser storage.
GE, MODEC sign Brazil FPSO turbine service deal
GE Oil & Gas has signed an agreement with MODEC covering the supply and service of gas turbines for FPSOs in Brazil. MODEC ordered GE gas turbines for eight FPSOs based in Brazil and signed a 25-year maintenance contract for gas turbines on six FPSOs. The agreement includes provision of data analytics for advanced monitoring and diagnostics, helping to improve equipment availability and operational efficiency. It is one of GE's largest ever service agreement for FPSOs.
The FPSOs are owned by consortiums headed by MODEC, which also provides operation and maintenance services for the vessels. GE's base in Petropolis can undertake repair work onshore where necessary to reduce turnaround time.
There is a growing trend, the company adds, for long-term contractual service agreements for FPSOs as opposed to managing maintenance on a single event basis. Use of digital solutions, the company claims, will allow MODEC to maximize operation efficiency and production output as well as reducing manpower requirements offshore.
Exmar FLNG vessel passes performance test in China
Wison Offshore & Marine has completed the performance test of the world's first barge-based floating liquefied natural gas (FLNG) unit at its yard in Nantong, China. This marks for the first time LNG has been produced onboard a floating facility.
The performance test of theCaribbean FLNG vessel was carried out in the presence of classification societies, Exmar, and all the relevant parties. During the 72-hour test, the vessel's performance ensured all key design requirements and production capacities were achieved for the unit's operational effectiveness.
TheCaribbean FLNG project is being delivered by Wison under an engineering, procurement, construction, installation, and commissioning contract with Exmar.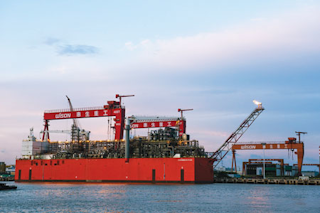 The barge-based FLNG unit is 144-m (472-ft) long, 32-m (105-ft) wide and 20-m (66-ft) deep, with an operating draft of 5.4 m (18 ft) and an LNG storage capacity of 16,100 cu m (568,566 cf). (Photo courtesy Wison Offshore & Marine)
Both the gas trial and performance test were completed at the company's Nantong yard. This is the world's first gas trial for a floating liquefaction unit before sail-out. All systems on the FLNG unit were commissioned and tested without leaving the shipyard by using LNG to supply gas without connection to a pipeline. Conducting gas trials and performance testing in the shipyard, Wison says, shortened the time required for project completion.
An Wenxin, senior vice president of Wison Offshore & Marine, said: "Floating LNG production, storage, and transportation facilities are emerging markets with large potential. The small-scale FLNG being delivered by Wison has design advantages with low-cost and compact features, providing the market with more economical and efficient solutions."
In March, Exmar NV and Pacific Exploration and Production agreed to terminate a liquefaction and storage agreement associated with theCaribbean FLNG. The vessel was slated to be moored in the La Creciente gas field offshore Colombia.