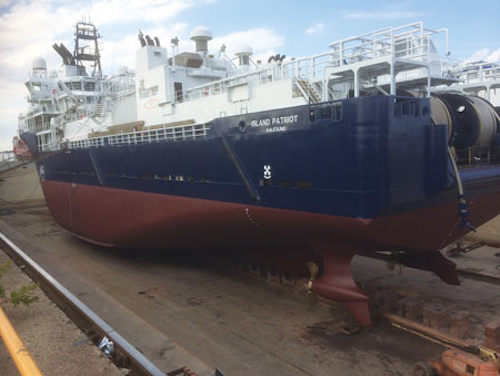 Sarah Parker Musarra
Editor
Last year,Offshore's World Survey of Stimulation Vessels showed that companies were still investing heavily in their fleets, upgrading and, in some cases, rotating out long-service vessels for new ones. Then, as now, the market was depressed; however, then, the industry had not yet experienced the full extent of the damage to come - when oil would tumble 75% from its June 2014 peak of around $108/bbl.
Although companies are still maintaining, upgrading, and refreshing their fleets, the fallout suffered from the crude pricing crash has reached the stimulation vessel market, as it has reverberated through every other segment within the oil and gas industry. Once again,Offshoreasked some of this year's survey participants about the market, and how things have changed since last year's survey.
At Houston's recent Offshore Technology Conference, a pervasive topic heard in showroom chatter and technical session fodder was the sector's renewed attempts at austerity, the sustained, slow market forcing it to adjust to a new normal.
Stimulation services can provide a bump in production from existing, producing wells, an option seemingly in-line with cost-cutting measures. However, some note that the sector is reeling from a substantial hit in another vital form of its business.
"The main difference for the vessel market from last year and previous years is the volume of work," Baker Hughes Stimulation Vessels Manager Noe Hurtado said. "As with most of the other business, the stimulation vessel market has been reduced due to the rig count decline."
The Baker Hughes Weekly Rig Count of March 11 shocked many with its results, showing a bump in the number of Gulf of Mexico rigs while registering a record low level of drilling activity. On and offshore, industry-wide rollbacks in drilling programs resulted in only 480 active oil and gas rigs worldwide, depths unseen since record-keeping began in the 1940s.
"Even when the stimulation market is gradually increasing, it is not nearly comparable to the market lost due to the reduced number of new, completed wells, where stimulation vessel services are very often required," Hurtado continued.
Furthermore, others find that the market slowdown has caused pricing issues that disrupt the market's economics.
Schlumberger said it has been building up its fleet of leased stimulation vessels over the last decade, and it contains units capable of hydraulic fracturing, acidizing, nitrogen services, and openhole gravel-pack operations.
Over the past year, Brian Goddard, Global Vessels Group Manager, Schlumberger, said that one of the company's priorities "has been to keep all of our vessels operating through the downturn to be prepared for the market rebound."
It has also focused on efficiency improvements and refining its service delivery to reduce nonproductive time and failures, which, he explained, reduces clients' drilling and completion costs.
Other survey participants emphasized the need to be flexible and efficient in their service offerings.
"The new vessel generations have become very flexible and had significantly reduced the delivery times or construction cycles while providing the same or higher capabilities than the traditional built-for-purpose stimulation vessels," Hurtado said. "Currently, Baker Hughes is deploying a flexible, safe, and modular stimulation vessel fit-for-purpose for international operations, based on a client's specific requirements to efficiently overcome the challenges of the offshore environment."
A recent case study provided by Baker Hughes showed that its StimFORCE modular stimulation vessel system saved a company working offshore West Africa $9 million by completing the operation without rig downtime.
Flexibility was one of the main drivers behind its recent success.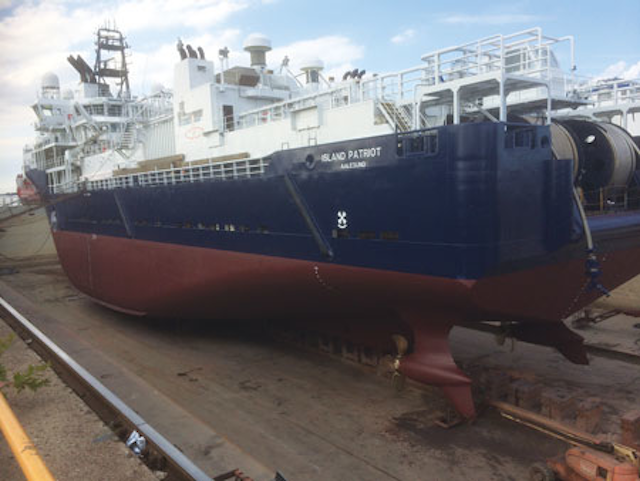 Island Patriot received an additional bow thruster in 2015 that gave it an environmental regularity number of 99/99/99/98. It also received an additional high-pressure and stimulation equipment control system. (Image courtesy StimWell Services)">
Since the last survey, StimWell Services said thatIsland Patriot received an additional bow thruster in 2015 that gave it an environmental regularity number of 99/99/99/98. It also received an additional high-pressure and stimulation equipment control system. (Image courtesy StimWell Services)
The operator was losing rig time while waiting for a stim vessel to become available for reservation, Baker Hughes said. The StimFORCE modular stimulation vessel system allowed for the rapid deployment of fracturing, stimulation, and pumping equipment. Configured-for-purpose on a platform supply vessel, the equipment could be removed during periods of inactivity, allowing the unit to then swiftly return to duty.
Not surprisingly, the bottom line continues to be a focus. Rami Yassine, global operations manager-production enhancement, Halliburton, commented: "[In the current market,] there continues to be an added focus on providing the lowest cost/boe solution to the client.
"This has aligned well with our broad product and service offering in conjunction with the operational capabilities the fleet can provide."
Halliburton found that by working with its clients and with other internal business units, it was able to expand and tailor its services to fit additional needs.
"Collaboration with the client base has been key, [as we have] expanded from discrete services in stimulation to a total completion solution in an integrated service offering," Yassine said. "In addition, collaboration with the reservoir and production groups is allowing increased success in identifying optimal solutions for the reservoir."
Last year, Halliburton introduced theStim Star Brasilto the Brazilian offshore market, where Yassine said it completed its first successful campaign in April 2016. Many of Brasil's features were also incorporated into the Stim Star IV, which was also added to the fleet in 2015. Yassine said that it has successfully completed dozens of stimulation jobs in the Gulf of Mexico's deepwater and Outer Continental Shelf regions.
Although Halliburton's vessels are market-specific, he said that they "are designed with high internal flexibility, and [incorporate] the ability to modify as changes occur."
For example,Stim Star recently transferred from Angola to Mexico after receiving some system enhancements.
Even with the down market, companies continue to view such upgrades as essential.
"We continually evaluate market needs and upgrade our vessels with new specifications to better serve our customers," Goddard said.
"For example, our Schlumberger HiWAY flow-channel fracturing technique has shown tremendous potential in providing a solution that not only increases production, but also dramatically reduces cost by providing a nearly 100% success rate of no screenouts."
Since the last survey, participants StimWell Services, Mehran Engineering & Well Services Co., and Superior Energy Services have maintainedIsland Patriot, Northern Genesis, and Inspiration, respectively.
Stimwell Services said it has invested heavily inIsland Patriot, adding an additional bow thruster in 2015 that gave it an environmental regularity number of 99/99/99/98.
In addition,Island Patriot received an additional high-pressure pump to boost hydraulic horsepower, and StimWell Services said it installed a new, state-of-the-art stimulation equipment control system.
Mehran said itsNorthern Genesis has had steady work off Iran's coasts so far in 2016, and completed around 20 jobs in the past year. Most recently, it performed an acidizing operation in the Hengam field in its first operation for Iranian Offshore Oil Co.
Notably, the vessel completed a large job in the Petroiran Development Co.'s South Pars project from October 2015 to January 2016, providing stimulation services on six deep horizontal wells.