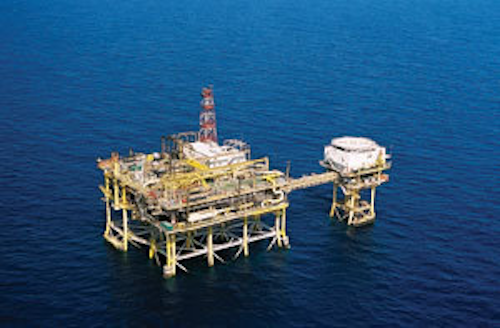 David Paganie, Senior Editor
Connected to over 50% of US refining capacity
The Louisiana Offshore Oil Port (LOOP) is America's first and only deepwater oil port.
The port facility is located in the GoM at the base of Port Fourchon, 18 mi south of Grand Isle, La., in 110 ft of water. LOOP is the only port in the US capable of offloading deep-draft tankers known as ultra large crude carriers (ULCC) and very large crude carriers (VLCC), some requiring 85 ft of draft clearance.
The port consists of three single-point mooring (SPM) buoys used for offloading crude tankers and a marine terminal consisting of a two-level pumping platform and a three-level control platform.
The SPMs are anchored to the seabed in about 115 ft of water, approximately 8,000 ft from the port's marine terminal and 20 mi offshore. Tankers hook up to one of the SPMs for offloading through a floating hose. Each buoy, measuring 21 ft in diameter and 46 ft high, is designed to accommodate ships up to 700,000 dwt. In addition, the SPM's hoses can rotate a full 360°, allowing the tanker to maintain a heading of least resistance to wind and waves.
According to LOOP, this facility is the only one of its kind in the US that can handle offloading from the world's largest oil tanker directly, without the need of lightering. LOOP averages about one offload per day.
The offloaded crude oil moves to the facility's marine terminal through a 56-in pipeline, where it is measured, sampled, and boosted to shore.
The onshore oil storage facility at Clovelly, 25 mi inland, is connected to the port complex by a 48-in pipeline. It provides interim storage for crude oil before it is delivered through four connecting pipelines to refineries on the Gulf Coast and in the Midwest.
LOOP's storage facility is one of many sites being considered by the US government as a future location for up to 130 MMbbl of additional capacity for the Strategic Petroleum Reserve (SPR). The SPR reserve storage is expected to increase to 1 Bbbl.
At Clovelly, oil is stored in eight underground salt caverns with a total capacity of approximately 50 MMbbl. Currently, oil from the Mars pipeline system is stored in LOOP's caverns. Future production from Thunder Horse is dedicated to the facility as well. In addition, LOOP has an above-ground tank farm consisting of six 600-Mbbl tanks.
LOOP is connected to over 50% of the US refinery capacity and has offloaded over 7 Bbbl of imported crude oil since its inception. On average, the port handled about 1.2 MMb/d of imported oil in 2005.
LOOP was organized in 1972 as a Delaware corporation and converted to an LLC in 1996.•