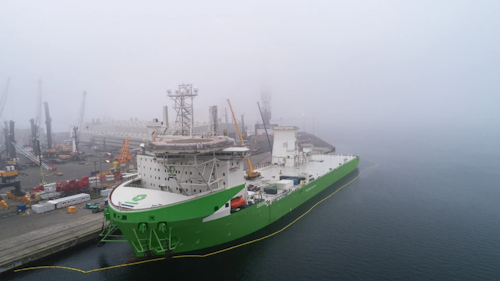 (Courtesy DEME)
Offshore staff
ZWIJNDRECHT, Belgium – DEME's DP-3 offshore installation vessel Orion has arrived at the Liebherr construction yard in the port of Rostock, Germany, for the installation of the 5,000-metric ton crane.
This milestone marks the final phase in the construction process, the company said.
Construction of the Orion began at the COSCO Qidong shipyard in China in March 2018. In April 2018, Liebherr started work on the new crane.
The crane will be assembled on the 800-metric ton pedestal on board, which will also include a rigging store, deck workplace, and several offices. With a lifting capacity of 5,000 metric tons (5,512 tons) at more than 30 m (98 ft) outreach the crane is said to be able to lift nine fully loaded A380 airplanes in one go. Loads can be lifted to a height of 180 m (591 ft).
According to DEME, environmental considerations are also an important element of the vessel design. The Orion has dual fuel engines and can run on liquefied natural gas. It will have a Green Passport and Clean Design notation. The vessel also features a waste heat recovery system that converts heat from the exhaust gases and cooling water to electrical energy.
The Orion is expected to join the fleet in 2020 and will head straight to the Moray East offshore wind farm project in the UK to install 103 jackets.
11/25/2019