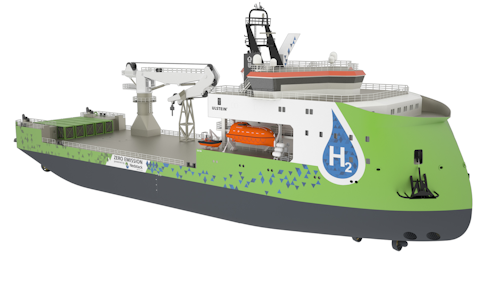 (Courtesy Ulstein)
Offshore staff
ULSTEINVIK, Norway – Ulstein Design & Solutions BV and Nedstack Fuel Cell Technology BV have unveiled the first complete hydrogen-fueled vessel.
The ULSTEIN SX190 Zero Emission construction support vessel is Ulstein's first hydrogen-powered offshore vessel, featuring a Nedstack fuel cell power system. The DP-2 vessel can cater for a large variety of offshore support operations.
This design uses proven and available technology, enabling clean shipping operations to reduce the environmental footprint of offshore projects. CO2, NOx, and particle emissions are eliminated when using hydrogen fuel cells.
The first vessel can be delivered in three years, according to Ulstein. Sea trials of a newbuild ULSTEIN SX190 Zero Emission could happen as soon as 2022.
With today's technology, the ULSTEIN SX190 design can operate four days in zero-emission mode. However, with the developments in hydrogen storage and fuel cell technologies, a future zero-emission endurance of up to two weeks is targeted, the company said. For extended missions and capabilities, the vessel can fall back on its more conventional diesel-electric system using low sulphur marine diesel oil.
The ULSTEIN SX190 Zero Emission design is based on the company's existing SX190 vessel platform and has a total installed power of 7.5 MW, of which 2 MW is generated by a fuel cell power system, typically Nedstack proton exchange membrane (PEM) fuel cells, which are in a separate, second engine room.
PEM fuel cells convert hydrogen and air into electric power, heat and water and produce no emissions in the process.
The PEM fuel cells used in the SX190 Zero Emission design are fueled by hydrogen from containerized pressure vessels. These hydrogen storage containers can be loaded and unloaded by normal container handling operations and equipment. The hydrogen containers can be refilled at hydrogen production sites, either from industry by-product hydrogen or green hydrogen from electrolysis.
11/18/2019