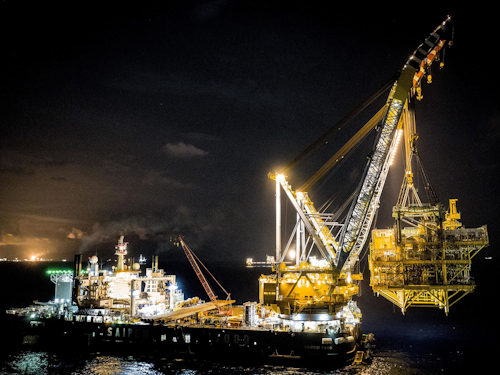 (Courtesy Saipem)
Offshore staff
SAN DONATO MILANESE, Italy – On Oct. 7, 2019, the crane vessel Saipem 7000 set a local heavy-lift record of 11,100 tons for the Gulf of Mexico.
The record was set during the installation of a gas compression module for the CA-KU-A1 platform at the Ku Maloob Zaap oil field in the Bay of Campeche offshore Mexico.
The Saipem 7000 set the previous local record in 2007 during the installation of the 10,473-ton PB-KU-A2 production platform integrated deck.
During the latest installation works, the vessel hosted the managing director and senior management of PEMEX as well as executives from Dragados Offshore, whose local branch built both the PB-KU-A2 and CA-KU-A1 platforms, setting the two heavy-lift records in the Gulf of Mexico along with Saipem.
10/30/2019