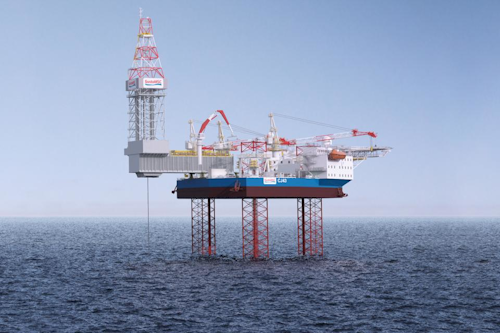 (Courtesy GustoMSC)
Offshore staff
DHAHRAN, Saudi Arabia – International Maritime Industries (IMI) has signed a license agreement with GustoMSC, an NOV company.
The agreement entails a new GustoMSC jackup drilling rig design which will use the modern manufacturing capabilities currently planned for at the IMI yard in Ras Al-Khair, Saudi Arabia.
The first phase of production operations at the facility is expected in in 2021.
GustoMSC, responsible for delivering the basic design, will tailor one of its CJ series jackup drilling rigs. Combined with a focus on IMI's specific construction and installation capabilities overall rig construction time will be reduced, the companies said.
The IMI rig design is targeted to be a 'Fit For Purpose' solution that enables safe, efficient, and reliable drilling for Saudi Arabia.
The full design development will kick-off in the coming weeks.
10/17/2019