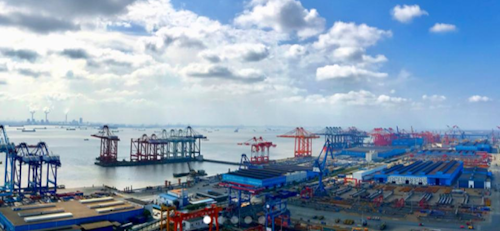 (Courtesy ZPMC)
Offshore staff
OSLO, Norway – Shanghai Zhenhua Heavy Industries (ZPMC) has contracted TMC Compressors of the Seas to supply a marine compressed air system for a new pipelay vessel.
The vessel is currently undergoing construction at the ZPMC yard in China.
TMC's equipment will comprise four working air compressors, four desiccant air dryers, two instrument air compressors and desiccant air dryers, four starting air compressors, four high pressure compressors for the vessel's tensioning system, and four high pressure air dryers.
"We will provide numerous very energy-efficient compressors designed to keep operating expenditure and emissions to air as low as possible for the vessel operator," said Hans Petter Tanum, director of sales and business development at TMC.
The JSD6000 derrick pipelay vessel will be 215.88 m (708 ft) long, 49 m (161 ft) wide, and with a draft of 10.83 m (35.5 ft).
It will have accommodation for up to 399 people. Other facilities will include 5,000 metric tons (5,511 tons) of full-slewing cranes, a J-Lay, S-Lay two-type pipe laying system, an eight-point positioning mooring system, and a DP-3 system.
Through an optimized layout, the vessel will be able to combine the two types of pipelay system, for operations in shallow water, deep and ultra-deepwater.
Pipelay diameters will cover the 6-60-in. range, in a maximum water depth of 3,000 m (9,842 ft).
09/19/2019