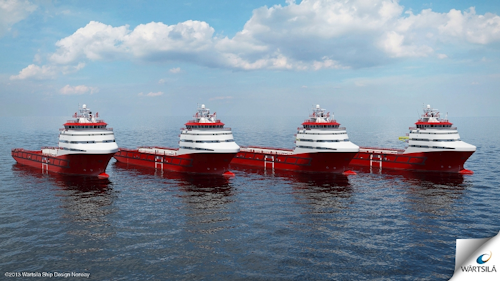 (Courtesy Wärtsilä Ship Design Norway)
Offshore staff
SANDE, Norway – Fujian Mawei Shipbuilding has contracted PG Flow Solutions to supply liquid-cargo systems and associated equipment for two large new multi-purpose platform supply vessels.
The package will comprise a hydraulically-driven cargo system with pumps, mud agitators, hydraulic power pack and control system for each vessel.
PG Flow Solutions delivered similar packages previously to four sister vessels at the same yard, all now in operation for the Seatankers Group.
The consignment for the first vessel should go out by December 2019, and the second by February 2020. All equipment will be fabricated, assembled and tested in Sande, Vestfold, Norway.
The new Wärtsilä's WSD 1000 MPSV design vessels will each be 88.8 m (291 ft) long, with a 5,200-metric ton dwt (5,732 ton), and a 1,005 cu-m (35,491-cu ft) deck area.
Both are designed for year-round supply to offshore platforms, with stores, materials and equipment for drilling, production and construction, plus supply to lay-barges and other offshore vessels.
08/29/2019