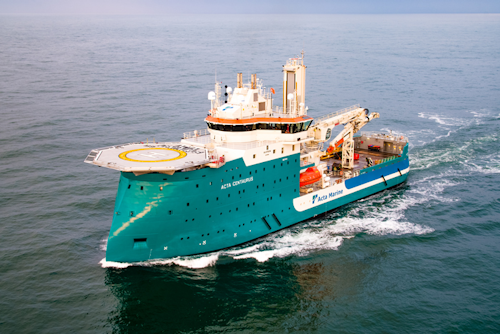 (Courtesy Acta Marine)
Offshore staff
HELSINKI, Finland – Acta Marine has contracted Wärtsilä to provide a hybrid propulsion system for the Acta Centaurus, a DP-2 walk-to-work construction support vessel.
The company will deliver the hybrid drive, batteries, and an energy management system. It will also install, test, and commission the hybrid system, as well as upgrade the existing onboard systems to make it suitable for hybrid drive.
Equipment installation is expected to start in 4Q 2019.
The hybrid propulsion solution, according to Wärtsilä, will enable the vessel to operate with less running engines at more optimized load.
It added the technology provides flexibility and efficiency. These vessels have a high dynamic positioning load and thus fluctuating power requirements which is an ideal situation for hybrid and can result in a CO2 reduction around 15%.
Joel Knif, General Manager, Marine Project Sales, Wärtsilä Marine, said: "Hybrid propulsion is becoming an increasingly adopted trend for meeting the challenges faced by today's maritime industry..."
08/08/2019