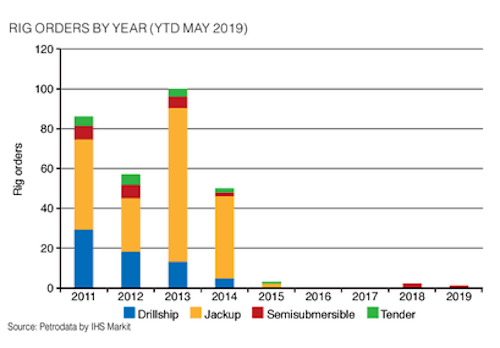 Justin Smith, IHS Markit
While offshore E&P activity is picking up in some regions, the offshore rig construction market continues to struggle. At the moment, a total of 101 rigs are under construction. Jackups make up a large majority, with 67 units currently under construction. This is almost exactly double the combined number of drillships, semis, and tenders currently being built, of which there are 19, 10, and five under construction, respectively. Out of these 101 rigs, only seven were ordered with contracts in hand or by operators themselves, five of which are associated with Sete Brasil, and even those contracts have since been scrapped.
However, one improving trend comes from the remaining 94 speculative units, of which seven have picked up contracts while being built – four jackups and three floaters. At this time last year, only one speculative newbuild semi had locked in a charter while under construction. Arguably the most noteworthy of these seven recent contracts is the Chevron charter of the Transocean ultra-deepwater drillship Deepwater Titan, which is under construction at Jurong shipyard in Singapore. What sets this unit apart is that it will be the first rig rated for 20,000 psi operations, and with that advanced technology comes a day rate of $455,000, which is much higher than the rates that come with other rig contract fixtures these days. The Deepwater Titan is currently expected to commence its five-year contract with Chevron in the US Gulf of Mexico in 4Q 2021.
Chinese shipyards continue to have more rigs under construction than yards in other countries by a wide margin, with a total of 62 rigs being built, 49 of which are jackups. Similarly, 15 of the 20 units under construction in Singapore right now are jackups. While fewer rigs are being built in South Korea compared to the past, the country continues to be the industry leader for building floaters. At the moment, 11 floating rigs are under construction in South Korea, and of those, 10 are drillships. Looking ahead, 47 rigs are slated for delivery this year, with 42 more scheduled for next year, and 12 in 2021. However, it is highly unlikely anywhere near that many rigs meet these planned delivery dates, especially those currently listed for 2019.
Another trend that continues to hold steady is contractors and shipyards putting under-construction units on standby to wait it out until demand improves. Thus far, at least 45 rigs have had their construction halted and placed on standby, and many of these rigs are ostensibly complete. Of those 45 units, 29 are jackups, seven are drillships, five are semis, and four are tenders. Save for a handful of exceptions, most of the 101 rigs that are currently being built have had their delivery dates pushed out anywhere between a few months and several years.
One small but positive sign for the industry comes in the form of new rig orders having been placed over the last year or so, following zero rig orders in 2016 and 2017, and only four in 2015, although one of those four has been cancelled since then. Three orders have been placed since the beginning of last year, all for semis, with two coming last year and one this year. The one order that has been placed this year, so far, came in March when Awilco Drilling exercised an option with Keppel FELS shipyard in Singapore for a harsh-environment semi to be built to the CS60 ECO MW design. The newbuild will be equipped and certified for drilling on the Norwegian continental shelf, including in the Barents Sea, in water depths up to 1,525 m (5,000 ft). This rig is scheduled for delivery in March 2022 and comes with a price tag of $425 million for yard costs, plus $30 million for yard supervision, commissioning, spares, and tools. Awilco has separate options with the yard for two more units, with the first of the two remaining options due to be called by March 2020, although a grace period of four to six months exists, should the contractor require more time.
The biggest factor deterring contractors from ordering new units is that the market is still heavily oversupplied, an issue that is only being exacerbated by oil prices remaining relatively low. In theory, this should slowly turn around as the market bottoms out and more rigs are removed from the global fleet, but it is unlikely that many more orders will be placed over the remainder of 2019. That said, it is expected that two jackup orders will be placed imminently by ARO Drilling, the joint venture between EnscoRowan and Saudi Aramco to build and supply the operator with units for years to come. These will be the first two of the 20 new rigs that the company will build. These jackups are expected to be built at Lamprell Shipyard in the UAE, although it is anticipated that the majority of the future newbuild rigs will be constructed at a new shipyard in Ras Al-Khair, Saudi Arabia. Earlier, ARO and International Maritime Industries selected a new LJ43 rig design for this newbuild program, which was developed in collaboration between GustoMSC and Lamprell. The first rig is to be delivered in 2021, generally followed by two rigs per year for 10 years.
Meanwhile, the Sete Brasil saga appears to be nearing its conclusion, but the ending does not appear to have a dramatic twist in store. Construction only ever started on 17 of the planned 29 ultra-deepwater rigs, and that work was put on pause several years ago. Last year Petrobras entered into a new agreement with Sete for 10-year charters for only four of Sete's newbuild rigs, terminating all of the other contracts. However, the agreement was conditional upon Sete finding "an international-class" rig company with deepwater experience not just to manage the rigs but to buy them outright, which has proven to be very difficult. Some interest was reportedly shown by two consortia, one between Keppel and Petroserv and the other between Etesco and Borr Drilling affiliate Magni Partners. It appears that if any of those companies are still in play, it is just Magni, but it is at least as likely that no deal will come together at all and, ultimately, no Sete rigs will ever be delivered.
Those Sete Brasil rigs are not the only victims claimed, at least partially, by the downturn. Dozens of rig orders have been cancelled over the last few years, some before construction on rigs has begun, but others well into the building process or even when units are essentially finished. Some contractors, like Borr Drilling and Shelf Drilling, have been pouncing on these distressed assets to build up their fleets at a discount, but many of the remaining rigs will have difficulty finding a home. For example, Seadrill has cancelled the construction contracts for eight jackups with Dalian Shipbuilding Industry Co (DSIC) over the last few months, all of which were under construction and some, like West Titan, finished. Now it is on DSIC to try to find buyers for these rigs.
Situations like this have placed a lot of pressure on yards, some of which are merging to stay alive, while others are struggling to survive. In one instance, CSSC Shanghai Shipyard in China has a team of around 600 workers working to complete the construction of several rigs and some jackets. While the yard has yet to completely cease operations, it is understood that it will just focus on completing its outstanding projects before the yard is closed. These projects include drillships Opus Tiger 2, Opus Tiger 3, and Opus Tiger 4. There is also one completed drillship, Opus Tiger 1, which is currently warm stacked at the yard, along with two unfinished tender-assist rigs. •
The 2019 Worldwide MODU Construction/New Order Survey is available to download.