Namdock
Offshore staff
WALVIS BAY, Namibia – EBH Namibia has renamed itself Namdock, with a goal of becoming a preferred marine repair partner for activities on the West African coast.
The company, which formerly had a South African shareholder, is now wholly Namibian-owned by the EBH Consortium and the Namibian Ports Authority (Namport).
Earlier this year Namdock won an order from a new client, Sapura Energy, to reactivate the SKD Jaya semisubmersible tender-assist drilling rig, after the vessel had been cold-stacked offshore Trinidad for the past few years.
"Even though the rig had a skeleton crew on board maintaining it, in the tropical maritime environment, a certain amount of deterioration was inevitable," said EBH Namibia project manager William Diamond who supervised the campaign.
An EBHN team traveled to Trinidad to assess the scope of work needed and the 94-m (308-ft) long, 36-m (118-ft) wide and over 20-m (65.6-ft) tall rig was then transported across the Atlantic to Walvis Bay on the heavy-lift vessel Hua Hai Long.
Its main power-units comprised of six Caterpillar diesels, with further power supplied by two 2MVA generators, while the two cranes on its superstructure have 52-m (170-ft) and 43-m (140-ft) booms, respectively.
Namdock's team had a brief of restoring the rig to a seaworthy condition and ensuring it was safe and fully compliant.
After a full inspection the team devised 17 different 'sub-projects,' such as ensuring that the accommodation and catering facilities were all in good shape, as up to 160 personnel could be on board at any one time.
Other critical tasks were refurbishing and testing of drilling equipment; checking operability of all lighting, signal and fire safety equipment; removal/rehabilitation of the anchors and anchor wires; removal and load testing of the deck crane cables; servicing and repairing the engines, generators and heat exchangers; calibrating fog and weather monitoring systems; replacing all anodes;  removal and lab testing of the BOP preventer test pump; overhauling all valves on the rig; assisting RigNet technicians with all satellite antenna connections; and supplying and reinstalling radio survey and satellite compass equipment.
One of the main challenges was to offload one large item of drilling equipment, because the quayside had not been designed to handle a piece of equipment of this magnitude.
To avoid damage to the quayside and Sapura Energy's equipment, the item was offloaded directly onto two unsynchronized flatbed units, which then transported it to another destination where it could be repaired.
Sail-away was completed on May 11.
Other recent jobs for the yard include repairs to the Angolan floating dock.
06/28/2019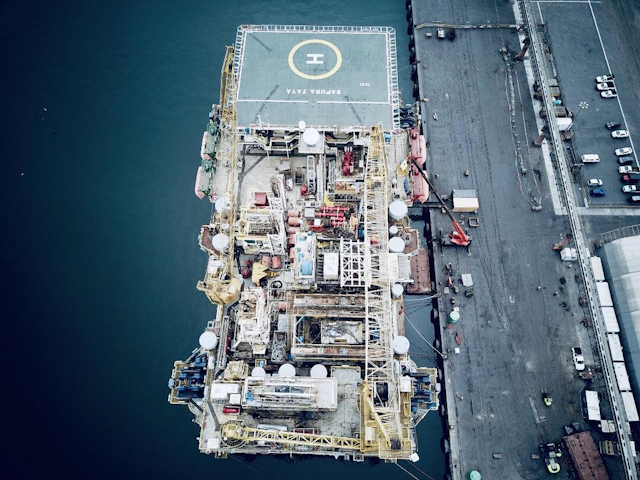 Aerial view of the SKD Jaya moored in Namibia.Namdock