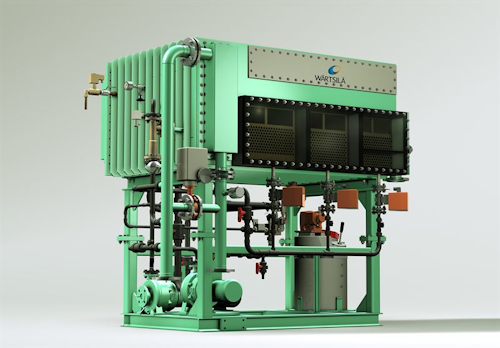 Wärtsilä
Offshore staff
HELSINKI, Finland – Wärtsilä has installed a Serck Como Horizontal Tube Evaporator (HiTE) fresh water production system onboard Allseas' pipelay vessel Lorelay.
This is the first commercial application of the technology. Wärtsilä said the retrofit project, designed to produce clean water for technical applications and human consumption, has led to fuel savings of 1 ton/d.
Uniquely, the company claimed, this is a multi-stage evaporator specifically engineered for small to medium capacities of 30-150 t/d. Handling capacities in this range previously involved design compromises.
The Wärtsilä HiTE can function in a wide range of scenarios, including shallow water areas with poor quality seawater where alternative technologies, such as reverse osmosis or plate technology, have limited capabilities.
The system is said to deliver energy savings of 75% compared to single-stage designs with a heat consumption of typically 200-280 kWh/ ton.
Taco Straathof, technical inspector, Allseas, said: "This evaporator produces pure distillate, even in difficult seawater conditions, plus it does so reliably and with low operating costs. The possibility to operate the unit at part load gives it great flexibility to utilize available waste heat."
According to Wärtsilä, the control system is fully automatic. In addition, the HiTE can operate while the engines are at low load during DP operations.
In DP mode the Lorelay operates at engine loads of between 15 and 35%. The system's automated smart processes adjust according to the amount of energy provided.
06/19/2019