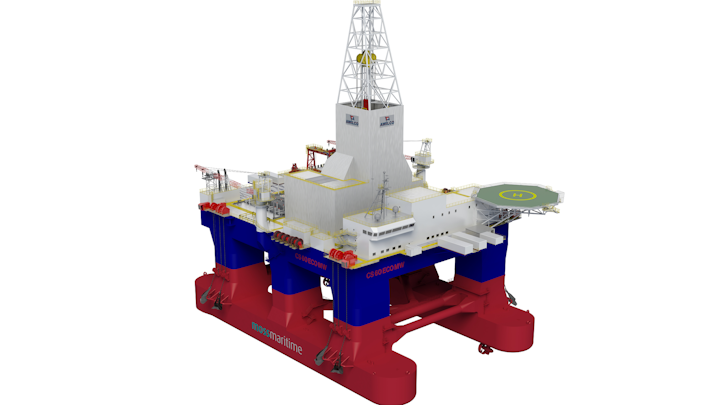 Kongsberg
Offshore staff
KONGSBERG, Norway – Kongsberg will supply control and electrical systems with power, propulsion and mooring systems for a new Moss CS60 ECO semisubmersible drilling rig.
This is presently under construction for Awilco Drilling at Keppel Offshore & Marine in Singapore.
Delivery will take place during 2Q/3Q 2020 with the rig (the second of two ordered by Awilco for harsh environment operations) due for completion in March 2022.
According to Kongsberg, the drilling efficiency and reliability built into the design of the CS60 ECO MW rig should result in lower opex with daily cost savings compared to existing semis.
Kongsberg's equipment will include diesel engines, high torque thrusters, a mooring system, hybrid power system with battery technology, thruster drives, drilling drives and energy management systems.
This combination, the comp any said, should help cut fuel oil consumption and minimize CO₂ (carbon-dioxide) and NOx (nitrogen-oxide) emissions.
The company's scope extends to condition monitoring of rotating machinery and provision of an information management system. In addition, the rig will be equipped with the company's ECO Advisor system with guidance to help operators optimize decisions for set up of the power plan.
06/06/2019