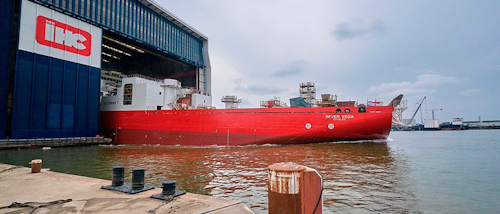 Subsea 7
Offshore staff
KRIMPEN AAN DEN IJSSEL, the Netherlands – Subsea 7's latest reel-lay vessel Seven Vega has undergone a naming ceremony at Royal IHC's shipyard.
According to Stuart Fitzgerald, executive vice president Strategy and Commercial, the vessel, due to be delivered in early 2020, "will be one of the most capable and cost-effective reel-lay vessels in the market…
"It has been designed to deliver flowline technologies that address the growing market trend towards longer and more complex tieback developments...This system will be capable of installing complex rigid flowlines including pipe-in-pipe systems and electrically heat traced flowlines in water depths up to 3,000 m [9,842 ft]."
IHC designed the Seven Vega in close cooperation with Subsea 7. Among the claimed innovations are its compact dimensions, achieved through the positioning of the three engine rooms and main reel, efficient use of the superstructure, and a low air draft pipelay tower.
There is a large aft working deck, while the optimized mass distribution is said to minimize the ballast water requirement.
The twin-tensioner pipelay ramp tilts to allow pipe placement in shallow waters and in depths of up to 3,000 m. A large multi-level workstation is said to optimize efficiency of operations in and around the firing line, while the positioning of the main and auxiliary reels recessed into the main deck provides payload flexibility.
In addition, the all-electric main crane allows lift parameters to be swiftly altered without the need to adapt the active heave system.
The Seven Vega has an overall length of 149 m (489 ft), a breadth of 33 m (108 ft) and a Class 3 DP system. Its reel-lay system has a 600-t top tension capacity comprising a 32-m (105-ft) main reel and a 17-m (56-ft) auxiliary reel with respective storage capacities of up to 5,600 t and 1,600 t. The main cranes provide a lifting capacity of 250 t and 50 t, with various smaller cranes alongside two side-launching work-class ROVs.
This will be the ninth vessel IHC has delivered to Subsea 7.
05/28/2019