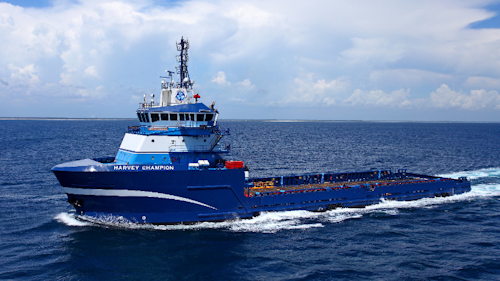 Harvey Gulf
Offshore staff
PARIS – Harvey Gulf International Marine has commissioned GE's Power Conversion business to provide the SeaGreen energy storage system (ESS) onboard the platform service vessel (PSV) Harvey Champion.
The system manages energy sources according to load demand, which is said to enable marine operators to optimize energy usage while providing continuity of operations, increased efficiency, and reduced emissions.
Included in the transformer-less solution are two 1000A systems, each with batteries, drives and supporting cooling and safety systems, all mounted within a single ISO container. The "plug-and-play" approach makes the solution a simple, fast, and cost-effective choice for vessel upgrades, according to GE.
The system can provide backup power in the event of a power blackout. It can also provide reserve power in case of engine failure or smooth out peak power fluctuations. Thus, it removes or minimizes the need to run additional engines avoiding additional fuel consumption and engine hours running costs, the company said.
The SeaGreen solution for the Harvey Champion is said to have dual channel, which allows one container to back up two separate switchboards. It is fully self-contained, requiring only simple electrical connections to the vessel. As part of the ESS package, GE said its transformer-less dual-channel LV3 drive has a simple design, reducing power losses across the ship's electrical network, further elevating energy efficiency at the system level.
Shane Guidry, CEO of Harvey Gulf, said: "The Harvey Champion is one of America's first offshore support vessels that will be equipped with a battery energy storage system, aiming to achieve emissions reduction and fuel-efficiency benefits…"
05/23/2019