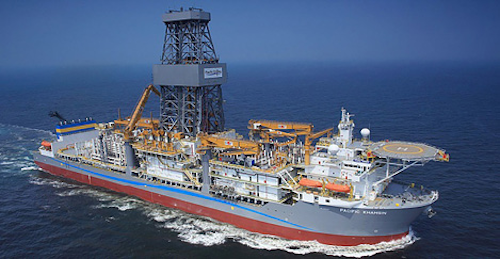 (Courtesy Pacific Drilling)
BSEE director offers comments
on safety, environment
Bureau of Safety and Environmental Enforcement (BSEE) Director Scott Angelle emphasized BSEE's commitment to safe and environmentally sustainable energy production during meetings in Louisiana in March with the Greater Lafourche Port Commission, the Louisiana Mid-Continent Oil and Gas Association, and BSEE Gulf of Mexico Region staff.
"BSEE's portfolio is offshore safety, providing leadership in environmental stewardship, and making sure we are doing what we can to help America achieve energy security," said Angelle to members of the Louisiana Mid-Continent Oil and Gas Association.
Angelle also emphasized BSEE's focus on driving safety performance and environmental stewardship through innovation and collaboration.
"When compared to calendar year 2016, in 2018, BSEE increased overall inspections, spent more time physically inspecting equipment, implemented more safety and environmental initiatives, and expanded its focus beyond prescriptive regulatory compliance to include managing and mitigating risk," said Angelle. "We are not looking at an either/or approach; we are instituting the 'and' equation. We can have robust production and it will be safe and responsibly produced."
When speaking with members of the Greater Lafourche Port Commission, Angelle highlighted the role deepwater energy production plays in building a stronger offshore energy industry and thanked the group for their critical support role.
"The Gulf of Mexico is changing," Angelle said. "We are seeing bigger, fewer, deeper, and more complex platforms replacing shallow-water facilities. "
To illustrate the change, Angelle pointed to a 73% increase in wells producing in deepwater and a 198% increase in deepwater oil production during the last 20 years, while shallow water saw declines in both.
In a series of working sessions with BSEE Gulf of Mexico Region staff, Angelle focused on the bureau's internal Change Management Initiatives. The bureau-wide program has been established to improve BSEE's performance in key areas that focus on safety performance and environmental stewardship.
"We are using metrics and data to drive offshore operators' performance and we are using it to drive our own," Angelle told staff. "What you do is more important than you may realize. It is vital that we work together to build a safer and stronger offshore energy industry. America is counting on it."
BOEM announces Lease Sale 253
The Bureau of Ocean Energy Management (BOEM) has proposed to offer 78 million acres for a region-wide lease sale scheduled for August 2019.
The sale would include all available unleased areas in federal waters of the Gulf of Mexico.
Lease Sale 253, scheduled to be livestreamed from New Orleans, will be the fifth offshore sale under the 2017-2022 National Outer Continental Shelf Oil and Gas Leasing Program.
It will include approximately 14,699 unleased blocks, located from 3 to 231 mi (5 to 372 km) offshore, in the Gulf's Western, Central, and Eastern planning areas in water depths ranging from 9 to more than 11,115 ft (3 to 3,400 m).
W&T high bidder on 15 blocks
W&T Offshore Inc. reports that it was the apparent high bidder on 15 blocks in the Gulf of Mexico Lease Sale 252 held by the Bureau of Ocean Energy Management on March 20, 2019.
The company was the apparent high bidder on eight deepwater and seven shallow-water blocks, which includes Garden Banks block 173, Green Canyon blocks 3, 46, 47, 49, 91 and 92 and Mississippi Canyon block 244 in the deepwater and Eugene Island blocks 357, 378, 393, 395, 396, Main Pass 286, and South Marsh 205 in the shallow water.
These 15 blocks cover approximately 73,500 acres and, if awarded, the company will pay approximately $3.5 million for all the awarded leases combined, which reflects a 100% working interest in the acreage.
All the blocks have a five-year lease term, except for one of the deepwater blocks which has a seven-year lease term. The royalty rate for eight of the blocks is 12.5%, and the remaining seven leases are at a rate of 18.75%.
Chairman and CEO Tracy W. Krohn said: "We utilized our proprietary seismic to determine the blocks we felt complemented our current acreage and extended known discoveries in the subsalt. We also believe that focusing on acreage around our production facilities allows for more economic and quicker development of potential discoveries."
Despite submitting the apparent high bid on these 15 leases, the BOEM reserves the right not to award some or all the blocks based on their minimum bidding criteria. W&T expects to receive the final award results over the next 90 days.