More innovations needed to drive development west of Shetland
The UK's west of Shetland region remains under-explored, according to Westwood Global Energy Group.
Feb 27th, 2018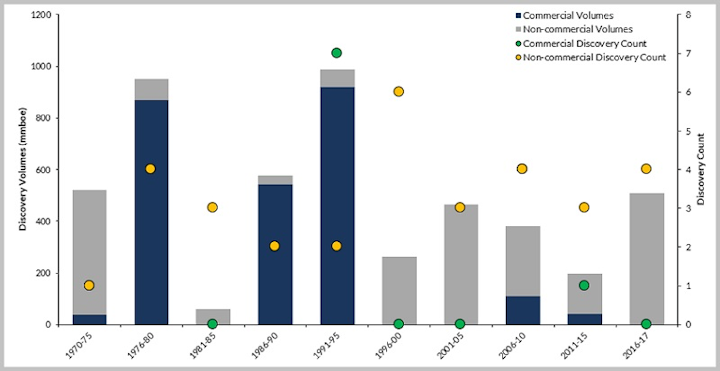 Offshore staff
ABERDEEN, UK – The UK's west of Shetland (WoS) region remains under-explored, according to Westwood Global Energy Group.
Since exploration in the region started in 1972, a total of 160 exploration well programs have been performed, representing 6% of total exploration across theUK continental shelf (UKCS).
Geologically the WoS region is challenging, said John Corr, manager Northwest Europe Consulting at Westwood, with multiple periods of burial and exhumation, and with Palaeocene basalt complicating geological models and impeding seismic imaging in certain sub-basins.
Returns from wells have been poor compared with other UKCS basins, he added, with only four commercial discoveries from 23 well programs since 2008.
Finding costs are the highest on the UKCS, he continued, at $14/boe and although the average discovery size is higher than in the other basins – 35 MMboe compared to the UK offshore average of 25 MMboe – this does not compensate for the associated costs of operating in the region.
Nevertheless, the potential resources are strong: an estimated 2.4 Bboe from undeveloped discoveries, with unproven volumes estimated at 1.9 Bboe.
The main issue in terms of development is securing infrastructure access, Corr suggested: most oil facilities in the region are either full or cannot handle any more water.
At present, any future gas development would be required to piggyback into theTotal-operated Laggan/Tormore flowlines, or would involve construction of a new pipeline to the Shetland Gas Plant.
In addition, the region has some of the harshest deepwater conditions, which impacts development economics.
Westwood estimates that at current price assumptions ($60/bbl, 50p/therm), around 50 MMbbl is the minimum to breakeven for oil in shallow water, and 150 MMbbl for deepwater projects off the continental shelf.
Gas is even more challenging in deepwater, with a probable breakeven for a tieback of at least 2 tcf.
However, BP has managed successful WoS projects such as theQuad 204 redevelopment and Clair Ridge, both in relatively shallow water and with a large resource base.
More recently Hurricane Energy has been working on anextended production system at Lancaster, in the basement play, and private equity-backed Siccar Point is working on a solution for the stranded Cambo oil discovery and plans appraisal drilling and exploration of the Lyon prospect later this year.
Westwood believes that between 2018 and 2020, production in the region will ramp up before peaking, then declining. To offset the dip, a combination of new technological solutions, new plays and/or cluster developments might be needed to progress development in this province.
02/27/2018