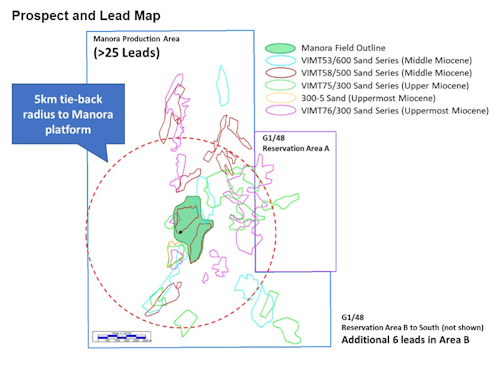 Offshore staff
PERTH, Australia – Tap Oil says Perth-based consulting group Discover Geoscience has identified 32 new leads in acreage surrounding the Manora oil field in the G1/48 concession in the Gulf of Thailand.
The existing field infrastructure allows for discoveries within ~5 km (3.1 mi) of the platform to be brought online for production within two to three weeks of drilling.
Tap adds that due to the low cost of drilling and completion (~$3.6 million per well), the profit margin on new barrels from Manora is greater than $35/bbl at current spot prices.
Discover's preliminary evaluation, based on 3D seismic in proven oil play fairways, suggests unrisked total oil initially in place volumes of ~56 MMSTB net to Tap Oil.
Evaluation continues to generate drillable prospects and will take around 10 weeks to complete.
In addition to this program, other value-enhancing measures under way for Manora include:
Converting the recent discovery of 0.5 MMbbl (net 2C resources) in the 300 series sands to reserves and ultimately production
Finalizing the proposed 2019 development drilling program, which may include: the AT and BT wells targeting the 650 reservoir in the Central Fault block and the 620/650 reservoirs in the Eastern Fault block.
Development of the 300 series sands in the Eastern Fault block could involve drilling three horizontal producers. In addition, the partners are working on new exploration targets.
07/25/2018