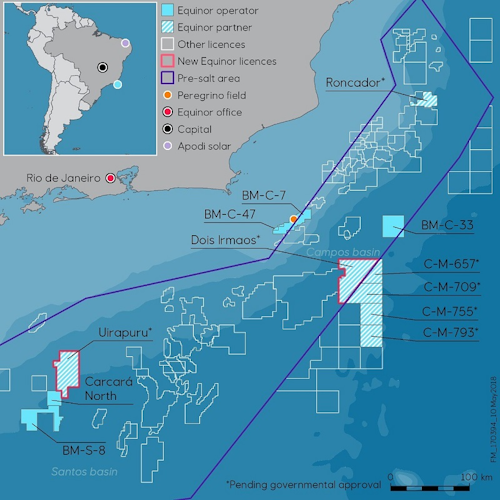 Offshore staff
RIO DE JANEIRO – Petrobras will participate in all three offshore blocks offer under Brazil's 4th presalt bid round.
Under the production sharing regime, the various consortia will pay a "surplus in profit oil to the federal government," which applies on revenue minus production costs and royalties.
This was the sole criterion considered by licensing agency ANP in determining the winning bids, unlike the previous terms which covered the signature bonus value, the minimum exploratory program, and commitments of local content.
The awards were as follows:
Block

Consortium

Composition

Petrobras

Bonus

(R$ million)

Surplus

in profit oil

(%)

Uirapuru

Santos basin

Petrobras (30%)

ExxonMobil (28%)

Equinor (28%)

Petrogal (14%)

795

75.49

Dois Irmãos

Campos basin

Petrobras (45%)

BP (30%)

Equinor (25%)

180

16.43

Três Marias

Santos basin

Petrobras (30%)

Shell (40%)

Chevron (30%)

30

49.95
Petrobras said operating in consortia with major IOCs is aligned with its strategy of strengthened partnerships, sharing risks, combining technical and technological skills, and capturing synergies to leverage results.
ExxonMobil said the award of Uirapuru would expand its position in Brazil to more than 2.2 million net acres.
"Uirapuru is a uniquely valuable block that represents tremendous opportunity for us," said Steve Greenlee, president of ExxonMobil Exploration Co.
The company plans to acquire more than 7,500 sq mi (19,425 sq km) of seismic offshore Brazil this year, with 3D survey work already under way on two blocks in the Northern Campos area, and preparations in hand to obtain approvals needed to start drilling activities.
ExxonMobil now has interests in 25 blocks offshore Brazil.
The company's partner Equinor also gained a 25% share of the Dois Irmãos block, adjacent to an area where the company was awarded four high potential blocks in the 15th licensing round in March.
06/08/2018