Barryroe partners commit to up to six wells offshore southern Ireland
Providence Resources and its partners have signed an amended and restated farm-out agreement with APEC Energy Enterprises for SEL 1/11 offshore southern Ireland.
Sep 20th, 2018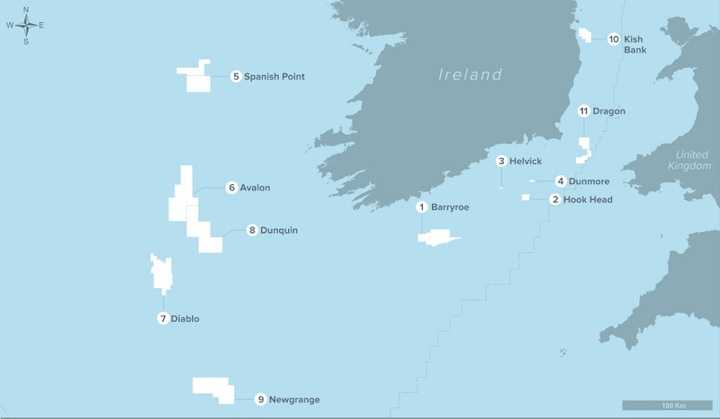 Offshore staff
DUBLIN, Ireland – Providence Resources and its partners have signed an amended and restated farm-out agreement with APEC Energy Enterprises for standard exploration license (SEL) 1/11 offshore southern Ireland, containing the Barryroe oil accumulation.
The area is in a water depth of around 100 m (328 ft) in the North Celtic Sea basin, 50 km (31 mi) off the south coast. The agreement follows the receipt of governmental consents.
It provides for a fully cost-carried program comprising drilling and testing of four vertical wells and one horizontal side track, with an option for two additional horizontal wells, and cash advances to Providence subsidiary EXOLA for certain agreed project and operational costs such as well site survey acquisition totaling $19.5 million.
Tony O'Reilly, CEO of Providence Resources, said: "The finalization of these binding farm-out terms with APEC is transformational for Providence…
"Subject to regulatory consents and appropriate arrangements with contractors, we expect mobilization to commence in 2Q 2019. In this regard, we…have contracted Gardline'sOcean Observer vessel to carry out the requisite site surveys during 4Q 2018.
"This drilling program is a significant step forward for Barryroe as it is designed to provide modern dynamic data that will assist in the field development to production."
Subject to the drilling results and subsequent regulatory consents, the path is now clear to project sanction and then on to production, he added.
Three of the four vertical wells will likely feature drillstem testing, and the first will include a side track to provide a 200-m (656-ft) horizontal reservoir section.
They are located across the geographic extent of the Barryroe structure and are designed to test the full potential of the Basal Wealden.
In three of the wells, drilling will likely be extended to the underlying Purbeckian and Upper Jurassic section.
Rig procurement continues for a 2Q 2019 mobilization, as do contract discussions with various oil field service providers.
On completion of the drilling program, APEC also has an option to drill, test and complete two further additional horizontal wells to the Basal Wealden reservoir interval.
Elsewhere offshore Ireland, analysis of recently acquired 3D seismic data over Providence's Dunquin prospect in the Porcupine basin has differentiated between the breached Dunquin North structure and the undrilled Dunquin South prospect.
09/20/2018