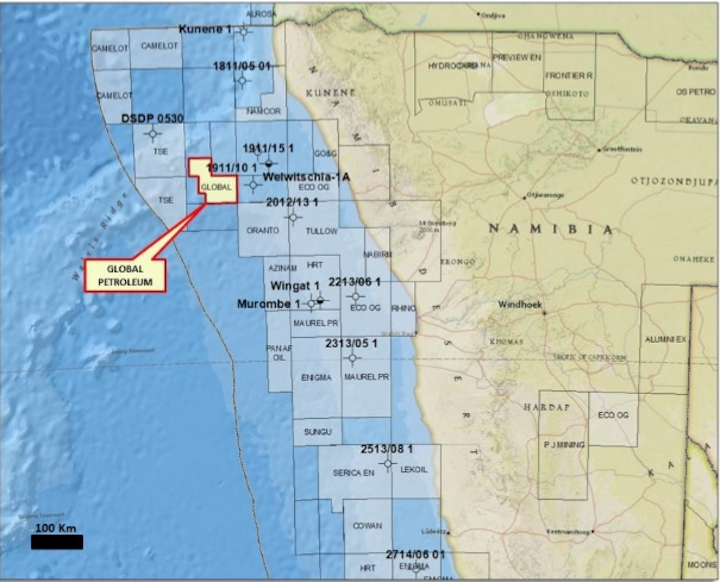 Offshore staff
BRISBANE, Australia – Global Petroleum Ltd. has issued results from a new competent person's report (CPR) on its Namibian offshore blocks 1910B and 2010A (license PEL0029).
AGR TRACS calculated potential resources of 3.66 Bbbl for three prospects:Gemsbok, Dik-Dik, and Lion.
The main Aptian Carbonate reservoir at Gemsbok holds prospective resources of 1.1 Bbbl of oil with a probability of success (POS) for drilling of one in eight.
For the deeper Syn-Rift section at Gemsbok and the Lion and Dik-Dik prospects, the POS is lower.
All three prospects are dip-closed structural traps. Previous large prospects identified by other Namibian operators have been mainly stratigraphic.
Global adds that oil seeps imaged on satellite data close to the mapped prospects, and work on source rock maturity based on the recent 2D seismic mapping, have further reduced the play risk.
The company expects the POS to increase following its planned acquisition of 3D seismic data.
Global CEO Peter Hill, said: "Following the Namibian Ministry of Mines and Energy's agreement last year to extend Phase 2 of our license and assurance of subsequent entry into Phase 3, we now have the time and flexibility to find the right partner to progress further this exciting acreage."
01/19/2018