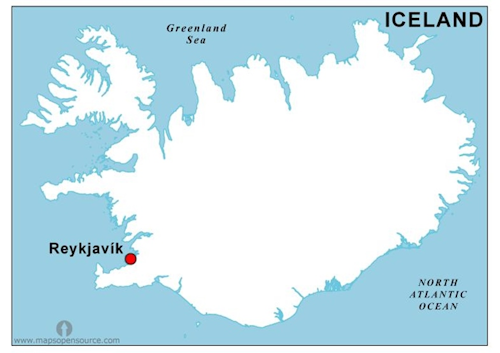 Offshore staff
STAVANGER, Norway – Petoro Iceland has relinquished its last remaining license offshore Iceland.
The company, as subsidiary of Norwegian state-owned entityPetoro, was originally awarded three licenses during 2013-2014. It had dropped the first two after completing the initial work commitment.
IS2014/1, the third license which was awarded in January 2014 (with CNOOC as operator), was divided into stages, the first of which expired on Jan. 22, 2018.
Again, Petoro completed the stage 1 work commitment, acquiring, processing, and interpreting 2D seismic data over the license, which covers a large area in water depths ranging from 200-2,000 m (656-6,562 ft).
Geologically the area is said to be extremely complex with an extensive historic volcanic activity, which made project evaluation difficult.
The volcanic activity camouflages to an extent the seismic responses and has contributed to very intense heat, which according to Petoro impacts hydrocarbon sources and reservoir quality.
Last year Petoro's share of production from fields offshore Norway delivered NOK87 billion ($11.3 billion) to the state, NOK21 billion ($2.73 billion) higher than in 2016.

President and CEO Grethe Moen said: "We are experiencing an economic upturn, so now we have to ensure that operations stay efficient and lay the foundation for future production by discovering more oil and gas."
The higher income was mainly due to the improved oil price, and record-high gas production.
"Over the last few years, operators and suppliers have done an impressive job in making the activities more efficient," Moen said. "Now we are seeing the results. The high number of new [Norwegian] development applications proves that we are competitive."
However, exploration activity needs to step up across the Norwegian continental shelf, she added, with no major field developments on the horizon afterJohan Sverdrup, Johan Castberg, and the Snorre extension program.
"Exploration in theBarents Sea in the summer of 2017 was a disappointment, but we have barely started mapping this exciting exploration acreage.
"The size of new discoveries is also declining, so it is encouraging that more exploration wells are planned in 2018 than has been the case for a number of years. Petoro is participating in about 20 of these."
03/15/2018