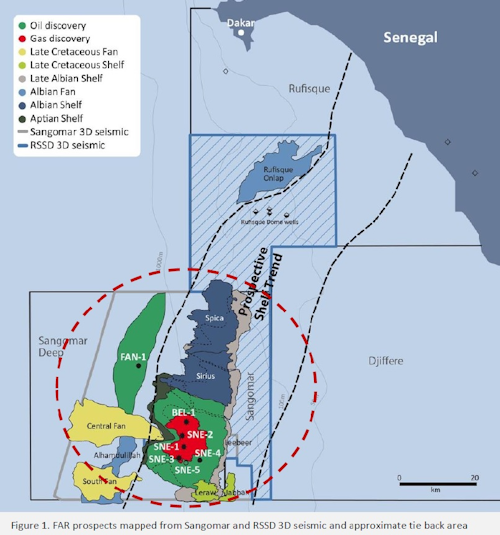 Offshore staff
MELBOURNE, Australia – FAR has identified more than 1.5 Bbbl of prospective (undrilled) oil across its acreage offshore Senegal.
This is an increase on the company's previous estimate, and is based on interpretation of 2,400 sq km (926 sq mi) of 3D seismic data acquired in 2015 that has been integrated with prior 3D seismic and well data.
Of the 1,563 MMbbl mapped, 234 MMbbl are net to FAR as a 15% partner in theRufisque, Sangomar, and Sangomar Deep joint venture.
In addition to the undrilled prospects, the 2C recoverable resource in the deepwater SNE discovery is estimated at 641 MMbbl of which 96 MMbbl is net to FAR.
RISC Operations compiled the latest review.
FAR has identified four main exploration plays based on shelf and basin concepts. Of these, the Early Cretaceous Albian shelf play houses theSNE oil field, with analogous prospects Sirius and Spica along the shelf edge trend to the north.
Others are the Albian Fan play, the Late Cretaceous shelf play, and the central FAN and South Fan, both Late Cretaceous basin canyon fed slope plays.
Several of the prospects identified are withinsubsea tieback range (30-40 km/19-25 mi radius) of a future SNE production hub and could impact the size, scope, and future returns generated from the development, FAR claims.
02/07/2017