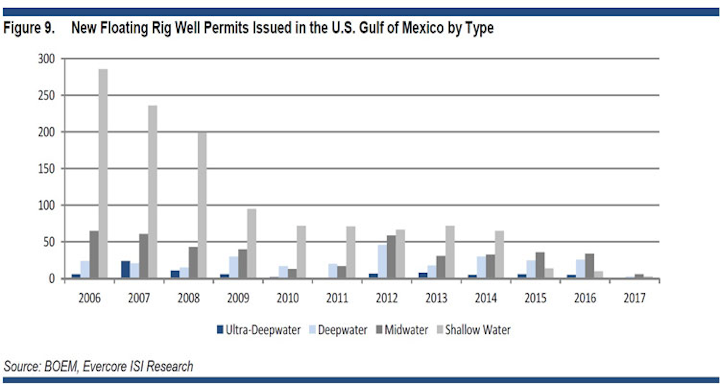 Offshore staff              
NEW YORK– Drilling permits in the US Gulf of Mexico more than doubled in March over February, according to Evercore ISI's US Drilling Permit Monthly report.
The analyst found that permit numbers for the midwater and deepwater categories logged significant gains, and questioned if the GoM's overall increase was a "one-off gain or early signal of improvement."
Assembled by Evercore ISI's Oilfield Services, Equipment, and Drilling group, the report aggregates and provides analysis of permit data from the Bureau of Ocean Energy Management, individual state's boards, and the Bureau of Safety and Environmental Enforcement.
Last month in the GoM, the total of 17 new permits grew 113% from eight in February, and was up 13% from permitting in March 2016. Shallow-water permitting held flat at four, with three side tracks and one bypass approved. Seven new midwater permits were filed in March, up from two filed in the previous month.
Deepwater permitting improved to five, with two new wells and three side tracks approved. Ultra-deepwater permitting notched a single new well permit in March, on par with from one activity from one month ago.
Overall, new well permits grew from three in February to four in March, while side track permits tripled to six and bypass permits increased 133% to seven.
As before Evercore said that, besides ultra-deepwater, the sharpest decline from the 2014 peak has come from shallow-water permitting, down 82% in 2017 from YTD 2014.
"We believe thatoffshore drilling (and jackup utilization) will continue to languish as long as shallow-water permits remain at historically low levels. Offshore planning from last month points to modest offshore improvement in the 2Q 17-3Q 17 timeframe, with four drilling plans filed for possible tieback work (two shallow-water, two midwater).
"Overall, we remain cautious in allocating optimism to the offshore space, but permitting trends have certainly shown upward momentum over the first quarter of 2017," Evercore said.
04/12/2017