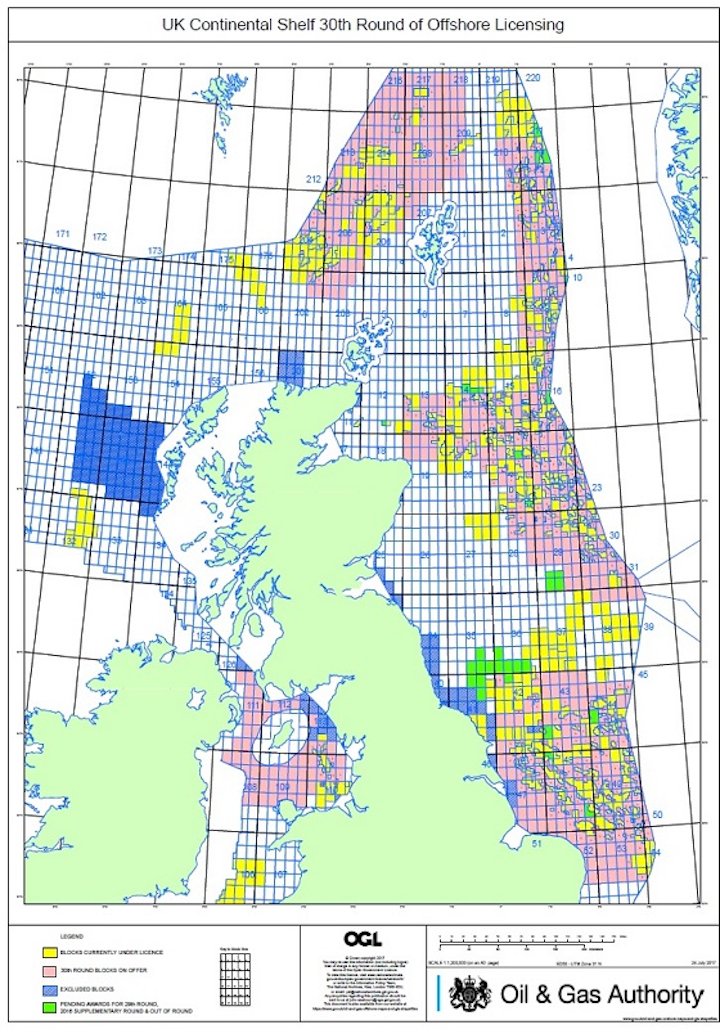 Offshore staff
LONDON – Britain's Oil & Gas Authority (OGA) has opened the 30th Offshore Licensing Round.
On offer are 813 blocks or part blocks across mature areas of theUK continental shelf (UKCS), spanning a total area of 114,426 sq km (28,275,280 acres).
The blocks are spread across the southern, central, and northern UK North Sea, west of Shetland and the East Irish Sea, and are said to include a large inventory of prospects and undeveloped discoveries.
This round will make use of the newInnovate License that the OGA developed with the industry with a view to creating more flexible, variable licenses.
Recently the OGA released around140 data packs on undeveloped discoveries included in the latest round offering. Of these, around 60 contain 'technical montages' detailing the discovery's history, static and dynamic information and digital subsurface data.
Last week it also made available regional geological maps covering the central North Sea and Moray Firth, with supporting datasets and studies. These can be accessed online via the Data Centre on OGA's website, along with an updated set of relinquishment reports and geospatial data.
Andy Samuel, OGA's chief executive, said the combination of the new Innovate License, technology and improvements to the UK continental shelf's fiscal regime meant that "now is a very good time to invest on the UKCS.
"We are encouraging companies to take a fresh look at large areas of acreage, some of which has not been available since 1965…"
Applications must be submitted by Nov. 21, 2017, with awards set to follow next spring.
Next up will be the UK's 31st Offshore Licensing Round, which will likely focus on frontier areas of the UKCS, including areas covered by the2016 UK government-funded seismic acquisition project off South West Britain and over the East Shetland Platform.
More than 13,500 km (8,388 mi) of new seismic data and around 20,000 km (12,427 mi) of reprocessed legacy seismic data is due to be released to industry once the current 30th Round has closed.
On Aug. 22, the OGA and the Oil and Gas Technology Centre will jointly host a Technology Forum at the Aberdeen Exhibition and Conference Centre to focus on how technology can help unlock future oil and gas developments in the 30th Round.
Mature areas of the UKCS were last on offer in the28th Offshore Licensing Round in 2014, which was one of the largest rounds in five decades.
07/25/2017