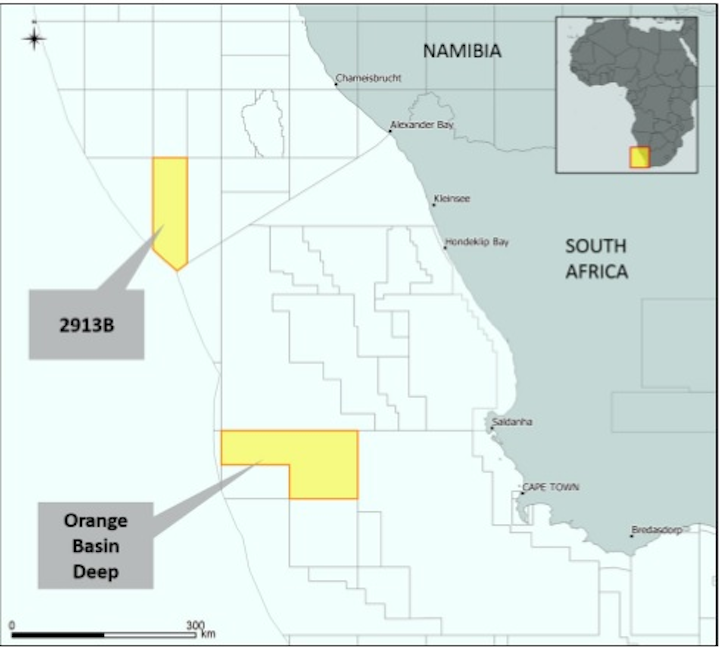 Offshore staff
WOKING, UK – Total has agreed to acquire 70% of Impact Oil & Gas' interests in block 2913B offshore Namibia, and 77.78% of Impact's interests in the Orange basin deep technical cooperation permit (TCP) off South Africa, once an exploration right has been secured over the area.
All approvals are in place for the Namibian farm-out, while the TCP transaction remains conditional on certain governmental approvals.
Block 2913B is in water depths of 2,500-3,250 m (8,202-10,663 ft), adjacent to the South Africa maritime boundary. The license within the Orange River basin, shared between Namibia and its neighbourSouth Africa.
Impact entered the 8,215-sq km (3,172-sq mi) concession in February 2014, subsequently acquiring 2D seismic which led to identification of various large Cretaceous oil prospects.
Early this year the company commissioned a follow-up 1,900-sq km (733-sq mi) 3D seismic program, and the data is currently undergoing processing.
License commitments have been satisfied for the current exploration phase, with Total now operator with 70%, in partnership with Impact (20%) and state-owned NAMCOR (10%).
The Orange basin TCP, first licensed in June 2016, is offshore western South Africa and covers an area of around 15,474 sq km (5,974 sq mi), in water depths ranging from 2,700-4,250 m (8,858-13,943 ft).
A technical evaluation is under way to assess the prospectivity of Cretaceous basin-floor apron fans, similar to those generating the prospects on the Namibian block.
Once the farm-out has been approved, Total will have a 77.78% operated interest and Impact 22.22%.
Robert Wilde, Impact's interim CEO, said: "We believe Total brings substantial technical and exploration expertise to the licenses, particularly in deepwater, and allows Impact to maintain a significant interest in these high impact, exploration assets which could potentially contain multi-billion-barrel prospects."
10/19/2017