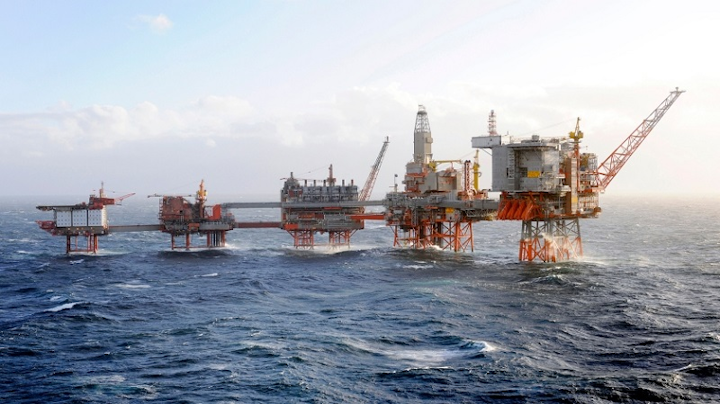 Offshore staff
LYSAKER, Norway– Aker BP has agreed with Hess Corp. to acquire all the shares in Hess Norge for a cash consideration of $2.0 billion.
The transaction includes Hess Norge's interests in the Valhall (64.05%) and Hod (62.5%) fields. Following the transaction, Aker BP will own 100% of theValhall and Hod fields. The company said that it will subsequently seek to sell or swap a minority interest in the fields.
The transaction is subject to customary conditions for completion, including approval by the Ministry of Oil and Energy, Ministry of Finance and relevant competition clearance. The effective date of the transaction is Jan. 1, 2017, and closing is expected by the end of 2017.
During the first nine months of 2017, Hess Norge's share of production from the Valhall and Hod fields was about 24,000 boe/d.
Valhall consists of a field center with six platforms and two unmanned flank platforms. The field is in 70 m (230 ft) of water.
Hod features an unmanned wellhead platform, located 13 km (8.1 mi) south of Valhall, and is remotely operated from the Valhall field center. All wells on the Hod platform are shut-in and awaiting P&A. The Hod reservoir is now being produced from wells drilled from the Valhall South Flank platform.
In January 2017, the fields passed 1 Bboe produced, which is more than three times the volume expected at the opening of the field in 1982. The ambition is to produce a further 500 MMboe.
Aker BP plans to submit a plan for development and operation for the Valhall Flank West project in late 2017, with estimated first oil in 2020. In addition, the company is maturing additional projects in the area, including the North and South Flank projects.
CEO Karl Johnny Hersvik said: "Aker BP has a clear ambition to be the leading independent offshore E&P company. This transaction is an important step in that direction. Acquiring this portfolio gives Aker BP a deeper exposure to one of our core areas. Taking full ownership and control allows Aker BP to pursue upsides more aggressively. As the operator of the Valhall/Hod field, Aker BP knows the area very well."
10/24/2017