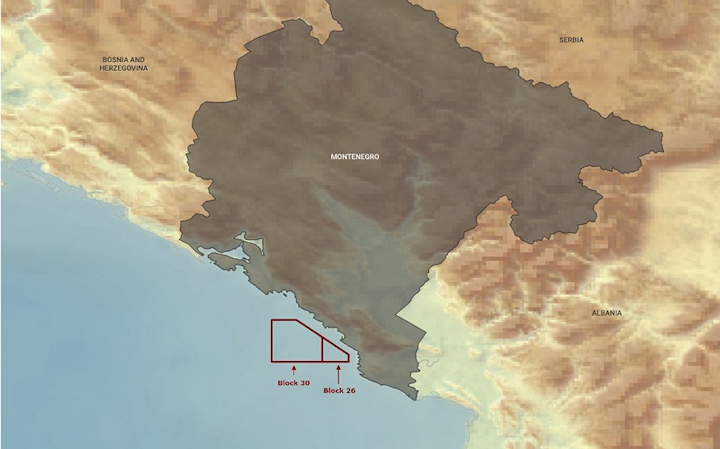 Offshore staff
ATHENS, Greece – Energean Oil & Gas has outlined the findings of the first competent persons report (CPR) for its exploration blocks offshore Montenegro in the eastern Adriatic Sea.
The report, by Netherland Sewell & Associates, covers shallow-water blocks 4218-30 and 4219-26, which cover a surface area of 338 sq km (130 sq mi).
Energean secured 100% operated interests in the concessions this March, after signing an agreement with the State of Montenegro.
The CPR estimates total net un-risked prospective recoverable resources (P50) across the two blocks at 1.8 tcf of natural gas and 144 MMbbl of liquids (438 MMboe in total).
This is the first component of the first three-year exploration phase: the mandatory work program includes a 3D seismic survey over the two blocks, likely acquired next year, and geological and geophysical studies.
Energean estimates the total cost of this initial exploration phase at $5 million.
Offshore Montenegro has been little explored, despite the fact that oil and gas discoveries were made during drilling by previous operators in the area in the late 20th century, although these were not commercialized.
Energean CEO Mathios Rigas claimed the CPR showed the country may be in the 'sweet spot' of untapped potential in the eastern Adriatic.
"The area remains substantially underexplored, despite having what appears to be a working petroleum system with extensive sandstone and carbonate reservoir development.
"The western offshore Adriatic has been a prolific hydrocarbon-producing province for over 50 years for both oil and biogenic gas and we believe that the same hydrocarbon plays extend intooffshore Montenegro.
"With exploration experience in westernGreece, Energean has developed a detailed understanding of the area's geology and is committed and uniquely positioned to maximize development possibilities and unlock the region's hydrocarbon potential."
10/20/2017