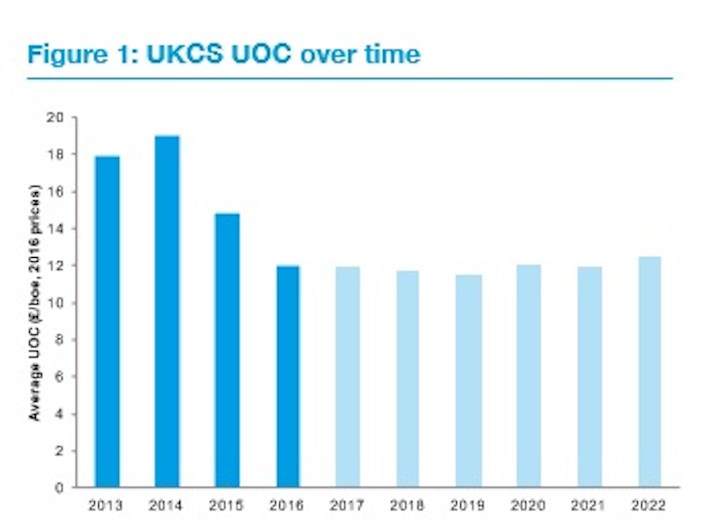 Offshore staff
LONDON – Operating costs across the UK continental shelf (UKCS) fell 14% last year to £7.2 billion ($9.66 billion), according to a report by the Oil & Gas Authority (OGA). This represented a second year-on-year reduction in the sector.
At the same time, UK offshore operators managed to trim around £1.1 billion ($1.47 billion) in total from their various projects.
Over half of the operators managed substantial opex cuts, according to the "Analysis of UKCS Operating Costs in 2016" report.
Lower costs are set to continue over the next five years, the OGA added.
Other findings were
• Average unit operating cost in 2016 down to £12/boe ($16.1/boe)
• Unit Operating Cost (UOC) down by 18% in 2016, and over one-third lower than the peak in 2014
• However, there were variations, with the highest UOC over 12 times greater than the lowest UOC
• Opex cuts dominated by four operators which provided 60% of last year's reduction in 2016.
Andy Samuel, chief executive of the OGA, said: "This analysis allows the OGA to identify cost-efficient assets and operators and provide benchmarking metrics which benefit our asset stewardship engagements and help drive further improvements in efficiencies.
"It is important that operators continue to collaborate and share lessons learned to sustain cost efficiencies for the future, while continuing to maintain high standards of health, safety and environmental management. This will enable industry to withstand future oil and gas price fluctuations and be more profitable in periods of stability and growth."
The report includes new information on UOC by field and geographical area, showing how costs are distributed at a micro level. The benchmarking data helps to validate the cost attractiveness of the UKCS, the OGA added.
12/15/2017