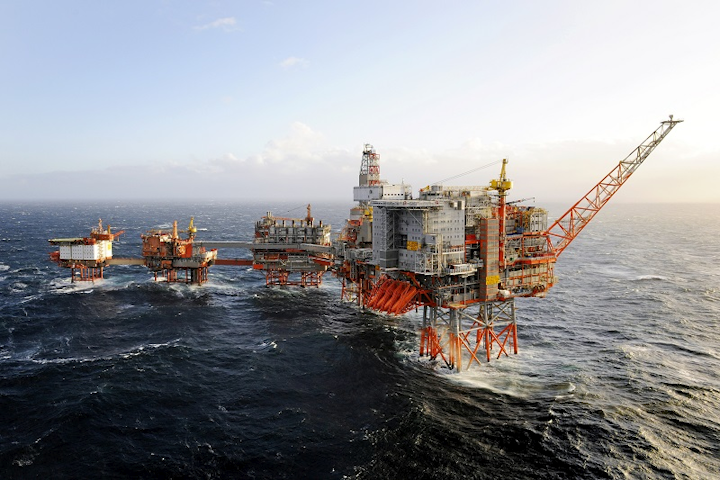 Offshore staff
LYSAKER, Norway – Aker BP ASA has agreed to sell a 10% interest in the Valhall and Hod fields in the Norwegian North Sea to Pandion Energy.
In October 2017, Aker BP committed to acquire Hess' Norwegian subsidiary, making it outright owner of the fields.
CEO Karl Johnny Hersvik said: "Through this transaction, we get a partner that shares our ambition of developing the upside potential in these fields."
The transaction should clear by the end of this year, subject to government approval.
Pandion Energy, formed in November 2016, is a privately-owned oil and gas company focused on exploration, appraisal and development opportunities throughout the Norwegian continental shelf (NCS), and was pre-qualified as a licensee on the NCS in June this year.
The company is supported by Kerogen Capital, an independent private equity fund manager specialized in the energy sector.
TheValhall field center currently comprises consists of six steel platforms for living quarters, drilling, production, water injection, and a combined process and hotel platform.
In addition, there are two unmanned and remotely operated flank platforms (North and South) 6 km (3.7 mi) north and south of the field center.
Hod has been developed with an unmanned wellhead platform 13 km (8 mi) south of Valhall, and is remotely operated from the Valhall field center.
All wells on the Hod platform have been shut-in for P&A, and the reservoir is now being produced from wells drilled from the Valhall South Flank platform.
Aker BP plans to submit a plan for development and operation for the Valhall Flank West project in late 2017, with estimated first oil in 2020, and is at the same time maturing other schemes, including the North and South Flank projects.
Its goal is to produce a further 500 MMboe from the two fields.
12/07/2017