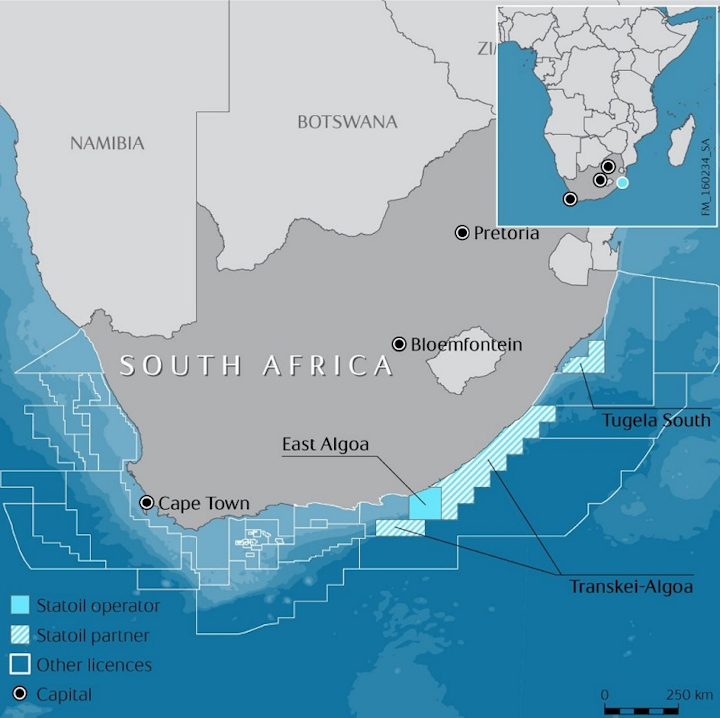 Offshore staff
STAVANGER, Norway– Statoil has acquired participating interests in two additional frontier blocks offshore South Africa, including one operatorship.
Statoil has completed a transaction with ExxonMobil Exploration and Production South Africa Ltd., acquiring a 35% interest in Exploration Right 12/3/252 Transkei-Algoa. Operator ExxonMobil retains 40% interest, while Impact Africa holds 25%.
The license covers about 45,000 sq km (17,375 sq mi) in water depths up to 3,000 m (9,842 ft).
The company has also completed a transaction with OK Energy Ltd, acquiring 90% interest and operatorship in the Exploration Right 12/3/257 East Algoa. The remaining 10% interest is held by OK Energy. The license covers about 9,300 sq km (3,590 sq mi).
Nick Maden, senior vice president for exploration in the southern hemisphere, said: "These transactions strengthen Statoil's position in South Africa and our long-term exploration portfolio. This is in line with our global exploration strategy of early access in basins with high potential."
Statoil entered its first license in South Africa in 2015, acquiring a 35% interest in the ExxonMobil-operated Tugela South Exploration Right.
09/07/2017