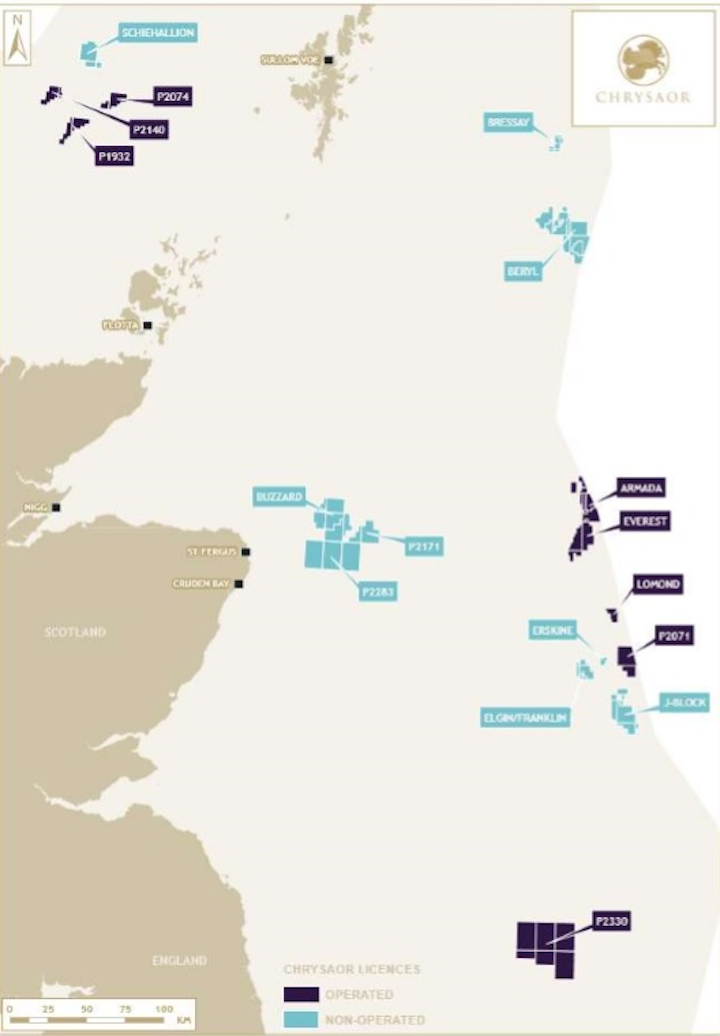 Offshore staff
LONDON – Chrysaor has completed acquisition of a package of UK North Sea interests from Shell for $3 billion, subject to adjustments.
Future payments may follow between the two companies, depending on exploration results and commodity prices.
The producing fields in the transaction are Beryl, Bressay, Buzzard, Elgin-Franklin, Erskine, Everest, the Greater Armada cluster, J Block, Lomond and Schiehallion, with Chrysaor now operator of the Armada, Lomond, and Everest hubs in the UK central North Sea.
Chrysaor claims the deal makes it the UK's leading E&P independent, with net production this year from the acquired assets averaging around 120,000 boe/d, and current unit operating costs of below $15/bbl.
The company now has a workforce of around 400 employees, half of which are based at its operations center in Aberdeen, with a further 150 working offshore and 50 at its corporate headquarters in London.
The list of acquired interests is as follows:
Beryl Area 39.4%
Bressay 18.4%
Buzzard 21.73%
Elgin-Franklin 14.1%
Erskine 32%
Everest 100%
Greater Armada Area 76.4%
J Block 30.5%
Lomond 100%
Schiehallion 10%.
INEOS has completed its acquisition of the Forties Pipeline System (FPS) and associated pipelines and facilities from BP.
The 235-mi (378-km) pipeline system links 85 North Sea oil and gas assets to the UK mainland and the INEOS refinery in Grangemouth, central Scotland, supplying nearly 40% of the UK's North Sea oil and gas production.
INEOS FPS has taken ownership and operation of the pipeline system, the Kinneil gas processing plant and oil terminal, the Dalmeny storage and export facility, various sites at Aberdeen, the Forties Unity (riser) platform and associated infrastructure, along with around 300 former BP personnel.
BP opened the Forties pipeline in 1975 to transport oil from Forties field, the UK's first major offshore oil field development. Today the FPS carries liquids from around 85 fields in the UK central and northern North Sea and several Norwegian fields, on behalf of 21 companies.
Last year the pipeline's average throughput was 445,000 b/d of oil and 3,500 metric tons/d of raw gas. The system has a capacity of 610,000 b/d of oil.
BP sold its remaining interests in the Forties field to Apache in 2003 and its Grangemouth refinery and petrochemical plants to INEOS in 2005.
The FPS comprises a 105-mi (169-km), 36-in. pipeline from the unmanned Forties Unity platform to the onshore terminal at Cruden Bay.
From there a 36-in. onshore pipeline transports the oil 130 mi (209 km) south to the Kinneil facilities, adjacent to the Grangemouth refinery and chemical plant, for processing and stabilization. The oil is then either exported via the Dalmeny terminal and Hound Point loading jetty or onward to Grangemouth.
11/01/2017