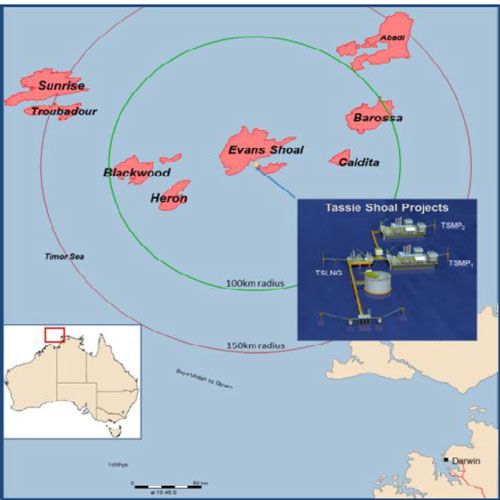 Offshore staff
MELBOURNE, Australia – Melbana Energy says reprocessing is continuing of 3D seismic over the AC/P50 and AC/P51 permits in the Vulcan sub-basin of the Timor Sea offshore northwest Australia.
AC/P51 contains the Ramble On prospect, a new play type said to have proven analogues in other basins, and on trend with the recent West-1 (Auriga) discovery near theCrux gas/condensate field.
Previously, Melbana grantedRouge Rock an option to acquire a 45% interest in the two concessions in exchange for managing and funding the remaining primary work programs, comprising seismic reprocessing and other technical activities.
Subject to completion, Rouge Rock may exercise this option by providing notice to Melbana prior to May 18, 2018, at which point it will acquire a 45% interest in the permits.
Late last year Melbana secured a 16-month extension to WA-488-P in the southern Bonaparte Gulf, spanning 4,105 sq km (1,585 sq mi), which the company was awarded in May 2012.
It has since identified the potentially giantBeehive prospect, a new play type in the Bonaparte basin.
Year 2 of the permit now runs through March 21, 2018, and the timeframe for drilling the Beehive-1 exploration well has been deferred commensurately.
The extra time should allow Melbana to undertake broadband reprocessing of an additional 330 km (205 mi) of 2D data, and stratigraphic interpretation/analogue field studies.
A formal farm-out process is under way in order to generate sufficient funding for the Beehive well.
01/30/2017