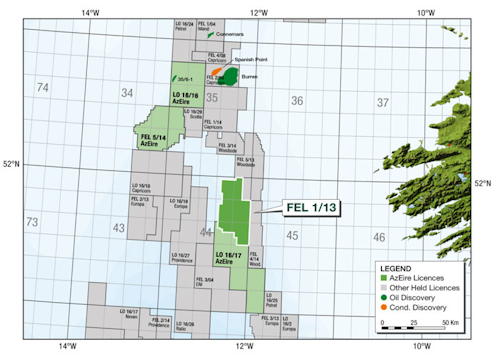 Offshore staff
HAMILTON, Bermuda – AzEire has secured multiple extensions to its frontier exploration license 1/13 in the Porcupine basin offshore western Ireland.
One prolongs the first phase to July 4, 2018, followed by a two-year extension to the second, third, and fourth phases to July 4, 2022, 2026, and 2030.
The company has committed to reprocessing of existing 3D seismic data, and will also conduct rock physics, geochemical modeling and integration of results into a full play and prospect assessment of the license area.
This acreage, along with license options (LOs) LO 16/31 and LO 16/32, covering multiple blocks in the North Celtic Sea and Fastnet basins and others in AzEire's existing portfolio, make it the largest acreage holder offshore Ireland (the company claims) with a net footprint covering 7,166 sq km (2,767 sq mi).
Managing director David Sturt said: "We have from the start placed considerable importance on building a robust regional understanding backed by a considerable and increasing seismic and G&G database. This has enabled us to continually challenge conventional wisdom in the region….
"We now look forward to continuing to build on our significant portfolio of high impact drillable prospects in a fiscal environment which is one of the most attractive globally."
01/27/2017