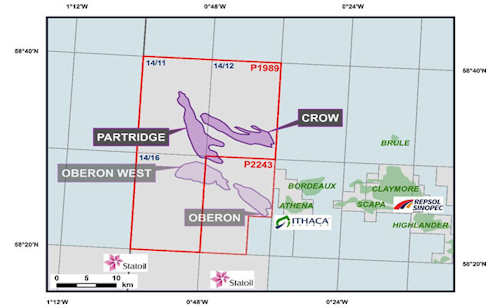 Offshore staff
LONDON – Azinor Catalyst has started tendering for a site survey in the UK North Sea in preparation for drilling of the Partridge prospect later this year.
In December 2015, Catalyst gained a 100% operated interest inblocks 14/11, 14/12, and 14/16 containing Partridge.
The prospect is in the Jura sub-basin of the Outer Moray Firth off northeastScotland.
Partridge is a large, structurally controlled stratigraphic trap comprising deepwater mass flow sands of the lower Cretaceous Scapa formation, with an associated direct hydrocarbon indicator.
According to Catalyst, this seismic signature is directly analogous to that observed in the Lower Cretaceous sands at the nearby, producing Scapa and Claymore fields.
The company estimates potential recoverable volumes at 119 MMboe mid-case, with an upside case of 260 MMboe. The reservoir is relatively shallow and normally pressured, with the well likely to cost $8-9 million.
Nick Terrell, managing director, said: "The prospect has the potential to significantly change the industry's perception of this under-explored part of the basin and we look forward to testing this exciting opportunity with the drill bit later in the year…
"In addition, we are in a position to capitalize on the significant reductions in drilling costs that we have seen in theUK North Sea market, with a reduction of over 50% in overall well cost since the beginning of the downturn in 2014."
01/19/2017