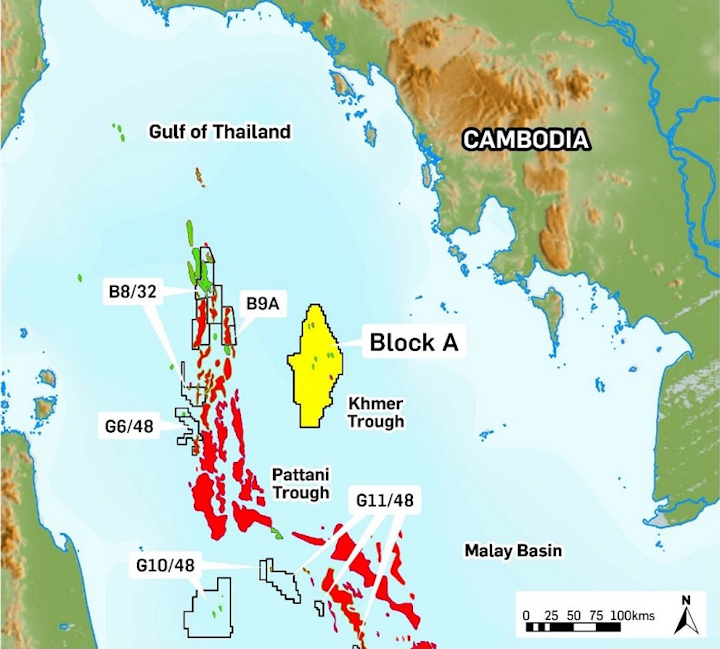 Offshore staff
PHNOM PENH,Cambodia– The Royal Government of Cambodia and KrisEnergy Ltd. have signed the fiscal and technical agreements for the nation's first offshore oil field development in block A in the Gulf of Thailand.
KrisEnergy,operator of block A since 2014, plans to develop the Apsara area in the northeastern section of the concession. Under the terms of the agreements, KrisEnergy has 60 days to declare a final investment decision for the Apsara project, which is expected to take up to 24 months to produce first oil.
Under the formalized terms, a 5% participating interest in block A transfers to the Cambodian government and will be held by the General Department of State Property and Non Tax Revenue of the Ministry of Economy and Finance. KrisEnergy holds the remaining 95% participating interest.
The agreements also trigger the second relinquishment phase of the concession, whereby 1,626 sq km (627.8 sq mi), or approximately 25% of block A, is returned to the authorities.
Jean-Baptiste Berchoteau, research analyst, Asia upstream, Wood Mackenzie, said: "KrisEnergy will benefit from more attractive fiscal terms than the default Cambodian terms notably in terms of income tax, tax holidays, and export duty. These revised fiscal terms are on par with other SE Asian countries, and it is still premature to say whether or not this agreement could attract more upstream investment into Cambodia."
The Cambodia block A contract area covers 3,083 sq km (1,190 sq mi) over the Khmer basin in the Gulf of Thailand where water depths range between 50 and 80 m (164 and 262 ft).
Phase 1A of the Apsara development consists of a single unmanned minimum facility 24-slot wellhead platform producing to a moored production barge capable of processing up to 30,000 b/d of fluids with gas, oil and water separation facilities on the vessel. The oil will be sent via a 1.5-km (0.9-mi) pipeline for storage to a permanently moored FSO.
According to KrisEnergy, since the individual oil accumulations in block A are small in size and spread over a large geographic area and reservoir production performance in the Khmer basin has yet to be proven, a phased development has been prudently adopted.
Once the initial Phase 1A platform is onstream, there will be a period to monitor reservoir performance before starting Phase 1B, which the operator says envisages up to three additional platforms producing to the Phase 1A facilities. A Phase 1C will potentially add up to six additional platforms for the full 10-platform Apsara development.
Berchoteau added: "In order to generate much-needed cash flow and reduce capital expenditure, it has announced its intention to farm-out up to half of its stake in the block. With the fiscal terms for the block now clarified, we expect interest in the project from both local and international players."

08/23/2017