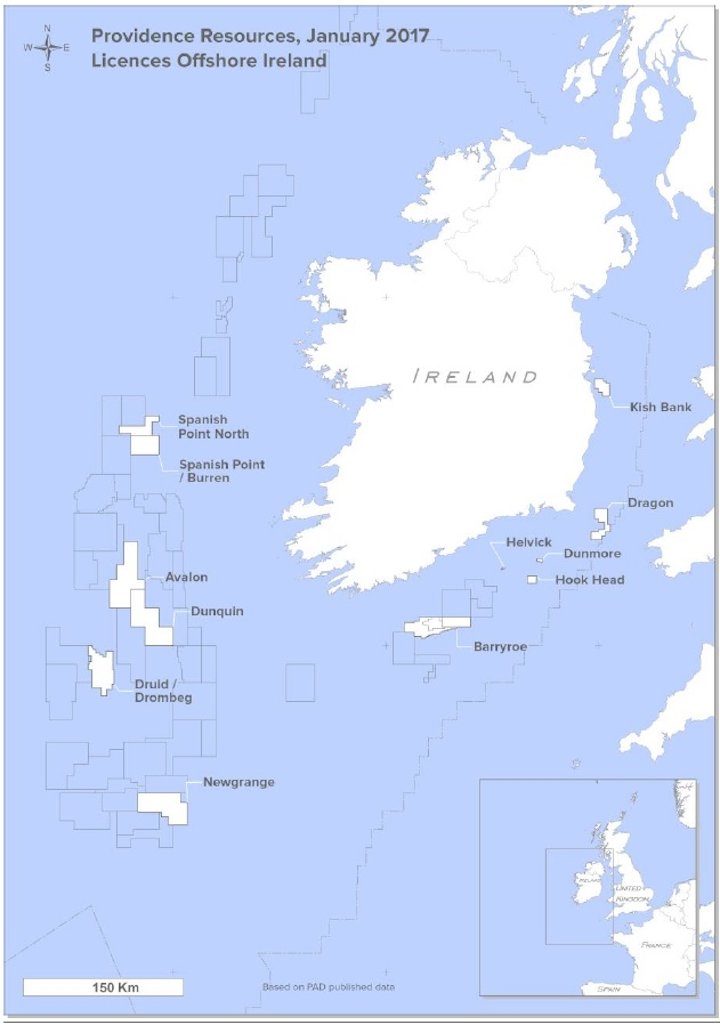 Offshore staff
DUBLIN, Ireland and LONDON–Providence Resources has signed a farm-in agreement with Capricorn Ireland Ltd. for 30% working interest in frontier exploration license 2/14 in the southern Porcupine basin.
FEL 2/14 lies in around 2,250 m (7,382 ft) of water, 220 km (137 mi) offshore southwest Ireland.
Under terms of the agreement, Capricorn, a wholly owned subsidiary of Cairn Energy Plc, will pay 45% of the costs of drilling the 53/6-A exploration well, subject to a gross well cap of $42 million, and a cash payment of $2.82 million (being 30% of the total sunk costs of $9.4 million incurred through June 30, 2016 by Providence / Sosina on FEL 2/14) on a pro rata basis.
Subject to all regulatory consents, the 53/6-A well is planned to spud in June 2017 using the contractedStena IceMAXdrillship targeting the Druid and Drombeg prospects.
In the event that the joint venture partners agree to drill a subsequent appraisal well in FEL 2/14, Capricorn will pay 40% of the appraisal well costs subject to a gross well cap of $42 million and will have the right to take over operatorship.
As a result of this transaction, the resulting equity in FEL 2/14 will be Providence (operator - 56%), Capricorn (30%) and Sosina (14%).
Closing of the farm-in is subject to the approval of the Minister of Communications, Climate Action and Environment.
Tony O'Reilly, CEO of Providence, said: "The addition of Cairn brings additional technical capabilities to the JV partnership, whilst providing Providence with additional financial and operational flexibility. This license has attracted considerable interest and we continue to discuss possible further equity divestment with other material industry players."
03/09/2017