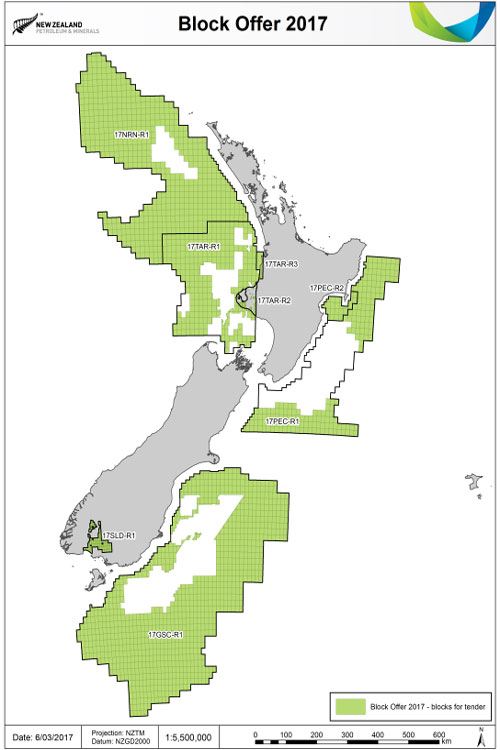 Offshore staff
WELLINGTON, New Zealand – Judith Collins, New Zealand's Energy and Resources Minister, has launched the country's Block Offer 2017 tender for petroleum exploration permits.
It includes five offshore release areas and one offshore/onshore release area, and encompasses acreage totaling 481,735 sq km (185,999 sq mi).
The launch follows extensive consultation with 146 native groups and 43 local councils on the proposals.
In the bid assessment process, the ministry will evaluate proposed work programs, the bidders' technical and financial capability to perform the work, their compliance history, and their likely ability to meet New Zealand's health, safety and environmental requirements.
Closing date for bids is Sept. 6, with permits likely to be granted in December. Areas offered include:
The Northland-Reinga Offshore Release Area (17NRN-R1) – 150,566 sq km (58,134 sq mi)
The Taranaki Offshore Release Area (17TAR-R1) – 64,978 sq km (25,088 sq mi)
The Taranaki North Release Area (17TAR-R3) – 1,475 sq km (569 sq mi)
The Pegasus - East Coast Offshore Release Area (17PEC-R1) – 49,630 sq km (19,162 sq mi)
The Hawke Bay Offshore Release Area (17PEC-R2) – 5,569 sq km (2,150 sq mi)
The Great South - Canterbury Offshore Release Area (17GSC-R1) – 204,928 sq km (79,123 sq mi).
03/23/2017