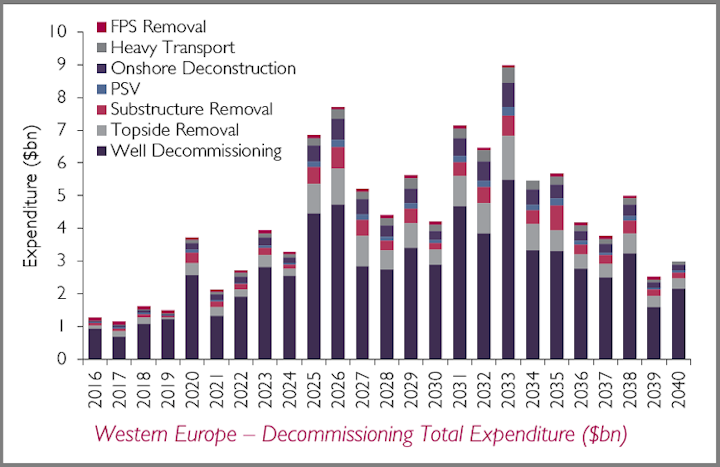 Offshore staff
FAVERSHAM, UK – Between 2017 and 2040, $105 billion will be spent on decommissioning in Western Europe, according to Douglas-Westwood's latest market forecast.
The Western Europe Decommissioning Market Forecast 2017-2040 projects that well decommissioning will account for the majority of expenditure, representing 65% of the total market. Expenditure for well decommissioning will be particularly high in more established producing nations with large numbers of subsea wells, notablyNorway and the UK.
Substructure and topsides removal will represent a combined 20% of expenditure between 2017 and 2040, with the majority of platforms being removed using reverse installation methods.Single-lift vessels are becoming established technology and, DW claims, have the potential to significantly impact the cost and time for decommissioning operations.
With the largest population of aging platforms, the analyst expectsthe UK to account for the largest proportion of decommissioning activity in Western Europe over 2017-2040, representing 54% of total expenditure, and 45% of platform removals.
The market is expected to experience a series of peaks and troughs over the forecast period. The analyst expects to see particularly high levels of expenditure between 2031 and 2035 as activity increases in Norway and the UK.
The rise indecommissioning activity will provide an opening for specialist companies aiming to establish themselves within the industry, from vessel contractors and cutting service/equipment providers to shipyards and companies specializing in waste management/disposal.
The focus within thedecommissioning market, the analyst says, is expected to remain on maximizing cost effectiveness, which will involve ensuring that operations are carried out efficiently and without incident. It will also involve taking adequate steps to explore all options for reducing the costs of decommissioning.
03/07/2017