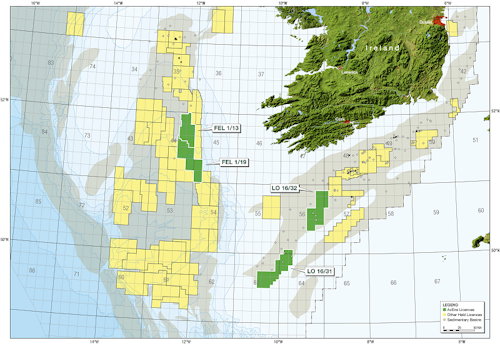 Offshore staff
HAMILTON, Bermuda – Ireland's Minister of State at the Department of Communications, Climate Actions and Environment has approved two frontier exploration license (FEL) applications by Azeire in the offshore Porcupine basin.
One concerns the extension of FEL 1/13 by two years; the other involves the conversion of license option 16/17 (LO 16/17) to FEL 1/19, starting from Feb. 1, 2019.
Azeire claims to be one of the largest acreage holders offshore Ireland with 100% operated license interests extending across a total of 5,708 sq km (2,204 sq mi).
The company secured LO 16/17, covering blocks 44/14P, 44/15P, 44/19, 44/20, 44/25, 45/21, 45/26a, under the2015 Atlantic Margin Licensing Round and gained its interest in FEL 1/13 in 2016 through acquiring Antrim Exploration (Ireland). 
In addition, it holds license options in the offshore FastNet and North Celtic Sea basins.
Director Diz Mackewn said the company would look to work up drillable prospects on both FELs over the next two to three years. Both are along the eastern side of the Porcupine basin, with 3D seismic coverage across the licenses and data reprocessing ongoing.
Nearby, Nexen Petroleum plans to spud a well later in the year the Iolar prospect, with Eni reportedly considering drilling the Dunquin South prospect, adjacent to and downdip from FEL 1/13 and FEL 1/19.
01/10/2019