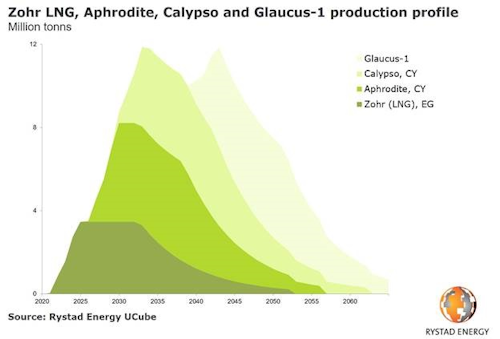 Offshore staff
OSLO, Norway – ExxonMobil's Glaucus-1 gas discovery in 2,100 m (6,890 ft) water depth southwest of Cyprus could hold recoverable resources of around 700 MMboe, according to Rystad Energy.
Senior upstream analyst Palzor Shenga said the result and previous deepwater finds off the south coast could help turn Cyprus into a gas hub for theEastern Mediterranean region, and may encourage the government to pursue land-based natural gas liquefaction plan.
"We expect Glaucus-1 and the neighboring discoveriesAphrodite and Calypso to collectively add around 2 bcf/d of gas at peak," Shenga added. "However, we do not expect Glaucus-1 to come online until the late 2030s, due to the lack of liquefaction capacity…
"Egypt and Cyprus have recently agreed to build a subsea pipeline to link the significant gas resources located in Cypriot waters with Egypt's LNG export facilities. The landmark deal is expected to carry a price tag of around $1 billion.
"This pipeline will be initially used to transport gas from Aphrodite, followed by Calypso. The liquefied gas will be then re-exported to the EU in the form of LNG. However, the project is not as easy as it sounds due to the geopolitical concerns from the neighboring countries."
The major issue is the continuing dispute between the governments of Cyprus and Turkey. Under these circumstances, Shenga warned, Cyprus needs to ensure that the energy giants can run their operations safely, without threats of military intervention.
03/01/2019